Federalism: A Reference Guide to the United States Constitution (Reference Guides to the United States Constitution) (Hardcover)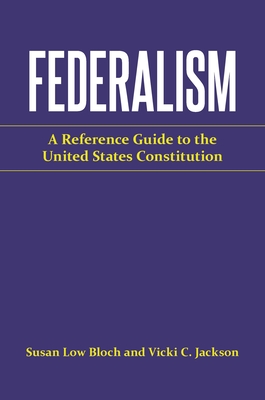 $123.50

Ships from Warehouse, Usually in 1-8 Days
Description
---
Federalism: A Reference Guide to the United States Constitution provides a thorough examination of this significant and distinctive part of the U.S. constitutional system, documenting its role in major domestic constitutional controversies in every period of American history.
Although the book is organized historically rather than doctrinally, the marked evolutions of important areas of doctrine are addressed over time. These subject areas include the scope of Congress's power under the Commerce Clause, the scope of Congress's powers under the Fourteenth and other post-Civil War Amendments, the states' authority to regulate commercial and economic matters when Congress is silent, the principle of the supremacy of federal law and the law of preemption that follows from it, intergovernmental and sovereign immunities, the obligation of state courts to enforce federal law, and the scope of national power to regulate or impose obligations on the states.
About the Author
---
Susan Low Bloch, JD, is professor of constitutional law at Georgetown University Law Center, Washington, DC. Bloch is the coauthor of Inside the Supreme Court: The Institution and Its Procedures as well as Supreme Court Politics: The Institution and Its Procedures.Vicki C. Jackson, JD, BA, is Thurgood Marshall Professor of constitutional law at Harvard Law School, Cambridge, MA. Her published works include Constitutional Engagement in a Transnational Era; Federal Courts Stories, with Judith Resnik; and Inside the Supreme Court: The Institution and Its Procedures with Susan Low Bloch.