Presidents from Eisenhower Through Johnson, 1953-1969: Debating the Issues in Pro and Con Primary Documents (President's Position: Debating the Issues) (Hardcover)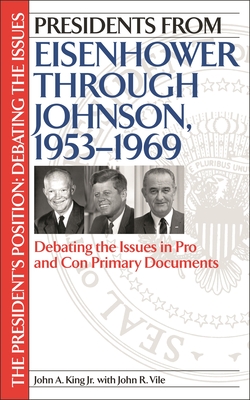 $89.70

Ships from Warehouse, Usually in 1-8 Days
Description
---
Throughout the 1950s and 1960s Communism and the Cold War pervaded almost every aspect of American policy and concern. Eisenhower's Highway Act sought to strengthen America with the sort of roads system and military advantage Germany's Autobahn provided in World War II; Kennedy looked to space, the Peace Corps, and the schools to improve America's actual and perceived status in the eyes of the world; LBJ continually found concerns about Southeast Asia pressing in upon him notwithstanding his desire to found a new Great Society in the United States. However, despite the Cold War and demands of international politics, these three presidents were continually involved in critical debates about the domestic future of America, and their roles and victories in these debates have left deep impressions upon American society. This volume provides readers with access to the primary documents--both foreign and domestic--that reflect the debates that have had such a strong influence in shaping the United States.
This resource covers thirty-two key issues and initiatives of the Eisenhower, Kennedy, and Johnson presidencies. An introductory overview of each president's administration provides a useful window through which to assess the specific debates and documents addressed, and each of these individual issues is also supplemented by a brief introductory discussion. Among the issues covered are: Eisenhower's attempt to establish a new look for national defense, the Eisenhower doctrine, and the National Defense Education Act; Kennedy's Alliance for Progress and Peace Corps programs, his role in Cuba, his plans for America in space, and his work on arms control and the Limited Test Ban Treaty; and Johnson's Civil Rights Act, Model Cities Program, war on poverty, and role in the ground and air wars in Vietnam. A timeline provides a chronological backdrop for the subject, and recommended readings following each section offer helpful direction for further study.
About the Author
---
John King, Jr. teaches Social Studies at Ransom Everglades School, Coconut Grove, FLJohn R. Vile is Chair of the Political Science Department at Middle Tennessee University. He is author of Companion to the U.S. Constitution and Its Amendments (Greenwood, second edition, 1997), Encyclopedia of Constitutional Amendments, Proposed Amendments, and Amending Issues (1996), and numerous other books on the United States Constitution.