Historical Dictionary of American Propaganda (Hardcover)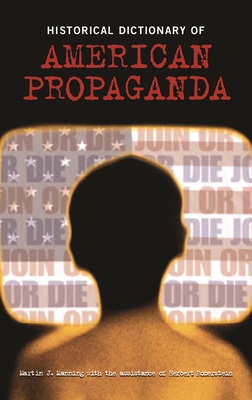 $110.50

Ships from Warehouse, Usually in 1-8 Days
Description
---
From the French and Indian War in 1754, with Benjamin Franklin's Join or Die cartoon, to the present war in Iraq, propaganda has played a significant role in American history. The Historical Dictionary of American Propaganda provides more than 350 entries, focusing primarily on propaganda created by the U.S. government throughout its existence. Two specialists, one a long-time research librarian at the U.S. Information Agency (the USIA) and the State Department's Bureau of Diplomacy, and the other a former USIA Soviet Disinformation Officer, Martin J. Manning and Herbert Romerstein bring a profound knowledge of official U.S. propaganda to this reference work. The dictionary is further enriched by a substantial bibliography, including films and videos, and an outstanding annotated list of more than 105 special collections worldwide that contain material important to the study of U.S. propaganda.
Students, researchers, librarians, faculty, and interested general readers will find the Historical Dictionary of American Propaganda an authoritative ready-reference work for quick information on a wide range of events, publications, media, people, government agencies, government plans, organizations, and symbols that provided mechanisms to promote America's interests, both abroad and domestically, in peace and in war. Almost all entries conclude with suggestions for further research, and the topically arranged bibliography provides a further comprehensive listing of important resources, including films and videos.
About the Author
---
MARTIN J. MANNING is a research librarian in the in the Bureau of Public Diplomacy, the U.S. Department of State, which was formerly the United States Information Agency (USIA). There, among other duties, he maintains the Bureau's Public Diplomacy Historical Collection, which was created at the suggestion of the USIA director from 1961-1964, Edward R. Murrow, to answer questions on the history of USIA, its successors, and its functions. This book is an outgrowth of the knowledge the authors acquired from a combined total of over 70 years of research at USIA and in the U.S. Congress.HERBERT ROMERSTEIN retired in 1989 as the Soviet Disinformation Officer of the USIA.