Youth's Battle for the Ballot: A History of Voting Age in America (Contributions in Political Science #291) (Hardcover)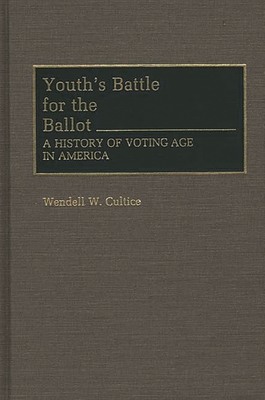 $111.80

Ships from Warehouse, Usually in 1-8 Days
Description
---
This is the first full history dealing with the voting age in the United States from 1607 to 1991 that shows how military service and suffrage have been linked through the years. Although the study points to standards regarding the right to vote back to Athens and Rome and to Europe in the Middle Ages, the account focuses on contemporary America and reviews federal and state action up to the ratification of the 26th Amendment giving 18-year-olds the right to vote. This popularly written study is designed for students of government and for broad audiences in college, university, high school, and public libraries.
This history of the voting age in the United States covers the military influence on the ballot box from 1607 to 1941; Congressional concerns from 1941 to 1952; public and political debates across the nation from 1953 to 1960; the mobilization of the young from 1961 to 1969; and executive, legislative, and court action in 1970 and 1971 leading up to the ratification of the 26th Amendment. The study provides an overview of the youth vote since 1971 and points to voting experiences in Australia, Canada, England, and New Zealand. A short summary is provided at the end of the book, along with a list of references, and a general index.
About the Author
---
WENDELL W. CULTICE is an educational consultant and President of Cultice Associates in Ridgefield, Connecticut. He has been a professional educator of the young for five decades and a school administrator in the Midwest and on both coasts. Recognized as an authority on voting age issues, he testified before several legislative committees during the 1954 to 1971 period. Cultice has been a frequent contributor to professional journals on the subject.