Fabulous Monsters: Dracula, Alice, Superman, and Other Literary Friends (Paperback)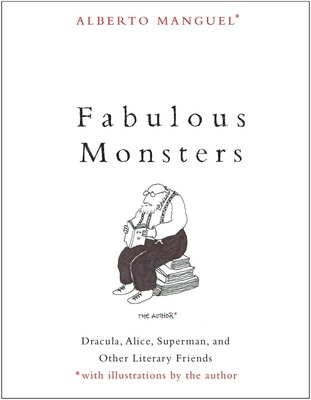 Description
---
"In art and words, a book lover honors the characters he can't forget."—New York Times Book Review

An original look at how literary characters can transcend their books to guide our lives, by one of the world's most eminent bibliophiles

Alberto Manguel, in a style both charming and erudite, examines how literary characters live with us from childhood on. Throughout the years, they change their identities and emerge from behind their stories to teach us about the complexities of love, loss, and the world itself. Manguel's favorite characters include Jim from Huckleberry Finn, Phoebe from The Catcher in the Rye, Job and Jonah from the Bible, Little Red Riding Hood and Captain Nemo, Hamlet's mother, and Dr. Frankenstein's maligned Monster. Sharing his unique powers as a reader, Manguel encourages us to establish our own literary relationships. An intimate preface and Manguel's own "doodles" complete this delightful and magical book.
About the Author
---
Alberto Manguel is a writer, translator, editor, and critic, but would rather define himself as a reader. His previous books include The Library at Night and Packing My Library.
Praise For…
---
"Dotted with droll little drawings by the author, Fabulous Monsters invites us to recall the intriguing, often tangential characters that we've met in literature and that, in certain cases, have accompanied us on life's journey. . . . Readers will be glad to have revisited old acquaintances (Queequeg or Job) and shaken hands again with those (Heidi's grandfather or Long John Silver) they may not know well.'—Meghan Cox Gurdon, Wall Street Journal

"A charming and essential book."—Greg Garrett, Spectator

"In art and words, a book lover honors the characters he can't forget."—New York Times Book Review

"Manguel expounds with thoughtfulness and humor on the lessons learned from some of his favorite literary characters in this insight-rich collection."—Publishers Weekly

"Bibliophiles cheer anytime Alberto Manguel . . . releases something new. His latest, Fabulous Monsters: Dracula, Alice, Superman, and Other Literary Friends, is yet another occasion for celebration."—Fine Books & Collections

"It is in lifting these characters, small and large, beyond their original (con)text(s), and suggesting and showing connections over time and other works, . . . that Fabulous Monsters is such an entertaining work. . . . A fascinating reader's-companion, with considerable food for thought."—M. A. Orthofer, The Complete Review

"Translator and critic Manguel expounds with thoughtfulness and humor on the lessons learned from some of his favorite literary characters in this insight-rich collection. 'Fictional characters at their best often seem more alive than our friends of solid flesh,' he reflects. . . . Manguel's whimsical illustrations add a charming note to an already winning assemblage."—Publishers Weekly

"In Fabulous Monsters, Alberto Manguel argues that imaginary characters portray our own lives. Yes, we say, this is how we are, this is what we do to one another, this is true. That, perhaps, is where literature can help most."—Salman Rushdie