Christmas delivery ends December 13th
We much appreciate how you've made UPB your holiday shopping destination.
Keep in mind, though, that it can take time for books to arrive at your desired shipping address. Sometimes titles have to cross the country from their warehouse location.
Therefore we recommend that you place your gift orders by December 13th to maximize delivery chances before December 25th.
Seeing Like a State: How Certain Schemes to Improve the Human Condition Have Failed (Veritas Paperbacks) (Paperback)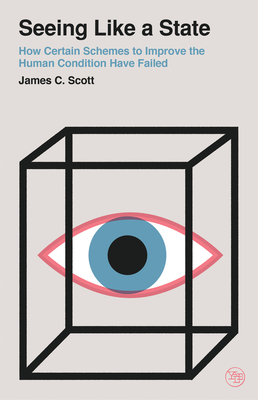 Description
---
"One of the most profound and illuminating studies of this century to have been published in recent decades."—John Gray, New York Times Book Review
 
"A powerful, and in many insightful, explanation as to why grandiose programs of social reform, not to mention revolution, so often end in tragedy. . . . An important critique of visionary state planning."—Robert Heilbroner, Lingua Franca

Hailed as "a magisterial critique of top-down social planning" by the New York Times, this essential work analyzes disasters from Russia to Tanzania to uncover why states so often fail—sometimes catastrophically—in grand efforts to engineer their society or their environment, and uncovers the conditions common to all such planning disasters.
 
"Beautifully written, this book calls into sharp relief the nature of the world we now inhabit."—New Yorker
 
"A tour de force."— Charles Tilly, Columbia University
About the Author
---
James C. Scott is Sterling Professor of Political Science and codirector of the Agrarian Studies Program at Yale University.
Praise For…
---
"One of the most profound and illuminating studies of this century to have been published in recent decades. . . . A fascinating interpretation of the growth of the modern state. . . . Scott presents a formidable argument against using the power of the state in an attempt to reshape the whole of society."—John Gray, New York Times Book Review
"Illuminating and beautifully written, this book calls into sharp relief the nature of the world we now inhabit."—New Yorker
"James C. Scott has written a powerful, and in many insightful, explanation as to why grandiose programs of social reform, not to mention revolution, so often end in tragedy—the Soviet disaster being the textbook case. . . . He has produced an important critique of visionary state planning."—Robert Heilbroner, Lingua Franca
"[An] important book. . . . The author's choice of cases is fascinating and goes well beyond the familiar ones like Soviet collectivization."—Francis Fukuyama, Foreign Affairs

"In a treatment that can only be termed brilliant, [Scott] has produced a major contribution to developmental literature. . . . This is a book of seminal importance for comparative politics and, indeed, for the social sciences. Highly recommended."—Choice
"Mr. Scott tells the story in witty, sparkling prose of these (Lenin, Mao, Pol Pot, among others) relentless social engineers and how they tried to impose for all eternity a perfect social order or an urban blueprint, regardless of human cost and unremitting human refractoriness."—Washington Times

"An important and powerful work that deserves to be read by anyone interested in large-scale public planning. . . . Among the book's virtues are its lucid style, deep learning, and wide range of fascinating cases."—Gideon Rose, Washington Monthly

"Where Seeing Like a State is original, and often startling so, is in its meticulous accumulation of empirical evidence that describes the failure of grandiose state projects to improve the human condition."—Brian C. Anderson, Public Interest
"Seeing Like a State is a worldly, academic synthesis of the destructive hubris of large-scale rational planning. . . . What Scott does that is brilliant is talk about how states and large institutions acquire the knowledge that they ultimately use to govern."—Michael Schrage, Across the Board
"Its global focus, its attention to issues of environment and economic development too often ignored by non profits scholars, and its impressive grasp of how organizations work, recommend it to anyone seriously interested in the future of public life."—Peter Dobkin Hall, ARNOVA News
"Scott's book is a paean to human liberty, a very complicated paean. . . . This book [owes] much of its value to the details of the particular case studies, and to Scott's enthusiasm and ingenuity in seeing links among apparently different human projects. He has written a remarkably interesting book on social engineering."—Cass R. Sunstein, New Republic
"In Seeing Like a State James Scott has given us powerful new paradigms of state action and popular resistance. His work is sure to inspire new thinking and research in history and social sciences."—Fred Murphy, Reader's Catalog
"Brilliant . . . [Scott] has produced a major contribution to developmental literature . . . this is a book of seminal importance for comparative politics and indeed, for the social sciences."—Choice
"Scott's book . . . is an important and powerful work that deserves to be read by anyone interested in large-scale public planning. . . . Among the book's virtues are its lucid style, deep learning, and wide range of fascinating cases."—Gideon Rose, Washington Monthly
"Seeing Like a State is a worldly, academic synthesis of the destructive hubris of large-scale rational planning. . . . Scott . . . takes a few powerful but basic themes and builds a persuasive case against what he calls 'High Modernism.' High Modernism, in essence, is the ideology of grand rational planners whose initiatives are based on the perfectibility of man. What Scott does that is brilliant is talk about how states and large institutions acquire the knowledge that they ultimately use to govern."—Michael Schrage, Across the Board
"Seeing Like a State has a great deal of merit. In exploring the sensorium of a Leviathan, Scott is standing on the shoulders of Foucault, but he has opened up an important issue to popular debate."—Gary Sturgess, Policy
"Seeing Like a State remains a tremendous achievement, easily one of the most impressive and important books of recent years."—Jesse Walker, Reason
"This is a book rich in ideas and arguments."—Ronald Grigor Suny, Slavic Review
"This is a magisterial book. . . . Scott's conceptual contributions will have a profound impact on our own making sense of the world."—David D. Laitin, Journal of Interdisciplinary History

"A lucid and richly illustrated study. . . . While the book itself is a tour de force, Scott's final destination in the conclusion is a personal and passionate argument for liberal democracy . . . as the only practical means of harmonizing local experience with the responsibilities of statecraft. Scholars and policy planners concerned with Africa have much to learn from Scott's methodology and his message."—James C. McCann, International Journal of African Historical Studies
"James Scott's tantalizing treatise invites us to ponder carefully the tragedies of modern state interventions as we struggle to recognize the resources people have to qualify those efforts and pursue possibilities for improving the future."—R. Bin Wong, Political Science Quarterly
"Scott's scholarship is formidable, his insights many, his rich detail usually stilling criticism. . . . This is a book of powerful case studies."—Michael Mann, American Journal of Sociology
"This is an enjoyable read. . . . Scott has made a valuable contribution to comparative development literature by distilling bout some of the essential features of development plans to show how they cause failure. . . . Hopefully his insights will lead to changes in development planning to avoid the pitfalls he identifies."—Sharon R. Murphy, Review of Politics

"An engrossing book that formulates some big ideas with a sweeping and inventive register of examples, Seeing Like a State promises to join an ever-growing list of works by James Scott destined to achieve that most desirable of academic fates—longevity."—Akil Gupta, Journal of Asian Studies
"This is a book to which the highest words of praise, those most thriftily dispensed, are justly applied. It amounts to a brilliant, dense, fascinating and—rarest of all in academic publishing—prophetic case against the hubris of what it calls high-modernist planning and for the respect of both local knowledge and conditions of complex diversity. It deserves a wide reading across disciplines and beyond the university."—Roger Epp, Canadian Journal of Political Science
Winner of the 2000 Mattei Dogan Award
2015 Wildavsky Award for Enduring Contribution to Policy Studies, from the Public Policy Section of the American Political Science Association
"The 'perfection' Scott so rightly and with such tremendous skill and erudition debunks in his book he himself has nearly reached, as far as positing and presenting the problem is concerned. The case of what the order-crazy mind is capable of doing and why we need to stop it from doing it has been established 'beyond any reasonable doubt' and with a force that cannot be strengthened."—Zygmunt Bauman, emeritus professor, University of Leeds
"A tour de force. . . . Reading the book delighted and inspired me. It's not the first time Jim Scott has had that effect."—Charles Tilly, Columbia University
"Stunning insights, an original position, and a conceptual approach of global application. Scott's book will at once take its place among the decade's truly seminal contributions to comparative politics."—M. Crawford Young, University of Wisconsin, Madison
"James Scott is one of the most original and interesting social scientists whom I know. So it is no surprise that Seeing Like a State is a broad ranging, theoretically important, and empirically grounded treatment of the modern state. For anyone interested in learning about this fundamental tension of modernity and about the destruction wrought in the twentieth century as a consequence of the dominant development ideology of the simplifying state, high modernism, Seeing Like a State is a must read."—Daniel Jonah Goldhagen, Professor of Government and Social Studies at Harvard University and author of Hitler's Willing Executioners

"A broad-ranging, theoretically important, and empirically grounded treatment of the modern state and its propensity to simplify and make legible a society which by nature is complex and opaque. For anyone interested in learning about this fundamental tension of modernity and about the destruction wrought in the twentieth century as a consequence of the dominant development ideology of the simplifying state, this is a must-read."—Daniel Jonah Goldhagen, author of Hitler's Willing Executioners