Poetry Cocktail Hour!
A Benefit for UPB
June 12th, 5PM to 6:30PM on Zoom
Charlie Jane Anders will present an evening of poetry, composed and performed by luminaries Amber Tamblyn, Alejandro Murguia, Jack Foley, Stephanie Burt, Baruch Porras-Hernandez and Jessy Randall.
Nature Strange and Beautiful: How Living Beings Evolved and Made the Earth a Home (Hardcover)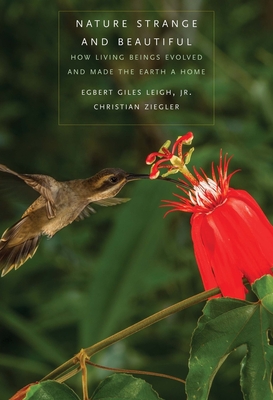 Email or call for price
Ships from Warehouse, Usually in 1-8 Days
Description
---
A beautifully written exploration of how cooperation shaped life on earth, from its single-celled beginnings to complex human societies
 
In this rich, wide-ranging, beautifully illustrated volume, Egbert Leigh explores the results of billions of years of evolution at work. Leigh, who has spent five decades on Panama's Barro Colorado Island reflecting on the organization of various amazingly diverse tropical ecosystems, now shows how selection on "selfish genes" gives rise to complex modes of cooperation and interdependence.
 
With the help of such artists as the celebrated nature photographer Christian Ziegler, natural history illustrator Deborah Miriam Kaspari, and Damond Kyllo, Leigh explains basic concepts of evolutionary biology, ranging from life's single-celled beginnings to the complex societies humans have formed today. The book covers a range of topics, focusing on adaptation, competition, mutualism, heredity, natural selection, sexual selection, genetics, and language. Leigh's reflections on evolution, competition, and cooperation show how the natural world becomes even more beautiful when viewed in the light of evolution.
About the Author
---
Egbert Giles Leigh, Jr., is a biologist for the Smithsonian Tropical Research Institute and has resided on Barro Colorado Island in Panama as the staff scientist since 1972. Christian Ziegler is a celebrated nature photographer whose work focuses on ecologically oriented themes.
Praise For…
---
"A truly fine piece of work, one that should be on the reading list of all students and practitioners of evolutionary biology."—Geerat J. Vermeij, author of The Evolutionary World: How Adaptation Explains Everything from Shells to Civilization
"Nature Strange and Beautiful is an exceptionally comprehensive and clear portrait of the origin and functioning of ecological communities, founded on Egbert Leigh's career in tropical biology. The photographs by Christian Ziegler and other detailed drawings add to the book's richness and appeal."—Douglas Futuyma, Stony Brook University
"Not just a linear narrative of evolutionary history – but a wonderful walk through the world. Leigh demonstrates how the evolutionary lens enriches all of human experience and deepens our appreciation for the strange and beautiful world in which we live."—Noel Michele Holbrook, Harvard University