Poetry Cocktail Hour!
A Benefit for UPB
June 12th, 5PM to 6:30PM on Zoom
Charlie Jane Anders will present an evening of poetry, composed and performed by luminaries Amber Tamblyn, Alejandro Murguia, Jack Foley, Stephanie Burt, Baruch Porras-Hernandez and Jessy Randall.
The Anthropocene and the Humanities: From Climate Change to a New Age of Sustainability (Hardcover)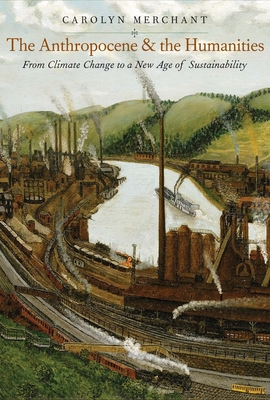 $27.30
Ships from Warehouse, Usually in 1-8 Days
Description
---
A wide-ranging and original introduction to the Anthropocene (the Age of Humanity) that offers fresh, theoretical insights bridging the sciences and the humanities

From noted environmental historian Carolyn Merchant, this book focuses on the original concept of the Anthropocene first proposed by Paul Crutzen and Eugene Stoermer in their foundational 2000 paper. It undertakes a broad investigation into the ways in which science, technology, and the humanities can create a new and compelling awareness of human impacts on the environment.
 
Using history, art, literature, religion, philosophy, ethics, and justice as the focal points, Merchant traces key figures and developments in the humanities throughout the Anthropocene era and explores how these disciplines might influence sustainability in the next century. Wide-ranging and accessible, this book from an eminent scholar in environmental history and philosophy argues for replacing the Age of the Anthropocene with a new Age of Sustainability.
About the Author
---
Carolyn Merchant is professor emerita of environmental history, philosophy, and ethics at the University of California, Berkeley. She is the author or editor of twelve books, including her landmark The Death of Nature: Women, Ecology and the Scientific Revolution.
Praise For…
---
"A remarkably clear and accessible study of multiple dimensions of the environmental crisis and their effects on the humanities."—J.R. McNeill, coauthor of The Great Acceleration: An Environmental History of the Anthropocene since 1945
 
"A text of great importance that investigates how science, technology, and the humanities can create a new and compelling awareness of human impact on earth."—Mary Evelyn Tucker, coauthor of Journey of the Universe
 
"Carolyn Merchant has written a pithy, well‑rounded introduction to what the environmental humanities can offer in moving our planet toward an Age of Sustainability." —Edward Melillo, author of Strangers on Familiar Soil
 
"Carolyn Merchant provides a useful interdisciplinary primer on the supreme challenges of living responsibly in the era on continual climate change. Her tone is both analytical and personal, and she offers a vision for an ecologically just future."—Jacob Darwin Hamblin, author of Arming Mother Nature: the Birth of Catastrophic Environmentalism