Poetry Cocktail Hour!
A Benefit for UPB
June 12th, 5PM to 6:30PM on Zoom
Charlie Jane Anders will present an evening of poetry, composed and performed by luminaries Amber Tamblyn, Alejandro Murguia, Jack Foley, Stephanie Burt, Baruch Porras-Hernandez and Jessy Randall.
Under the Red White and Blue: Patriotism, Disenchantment and the Stubborn Myth of the Great Gatsby (Hardcover)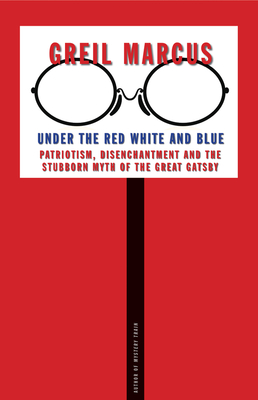 $26.00
Ships from Warehouse, Usually in 1-8 Days
Description
---
A deep dive into how F. Scott Fitzgerald's vision of the American Dream has been understood, portrayed, distorted, misused, and kept alive

Renowned critic Greil Marcus takes on the fascinating legacy of F. Scott Fitzgerald's The Great Gatsby. An enthralling parable (or a cheap metaphor) of the American Dream as a beckoning finger toward a con game, a kind of virus infecting artists of all sorts over nearly a century, Fitzgerald's story has become a key to American culture and American life itself.
 
Marcus follows the arc of The Great Gatsby from 1925 into the ways it has insinuated itself into works by writers such as Philip Roth and Raymond Chandler; found echoes in the work of performers from Jelly Roll Morton to Lana Del Rey; and continued to rewrite both its own story and that of the country at large in the hands of dramatists and filmmakers from the 1920s to John Collins's 2006 Gatz and Baz Luhrmann's critically reviled (here celebrated) 2013 movie version—the fourth, so far.
About the Author
---
Greil Marcus has written many books, including Mystery Train, Lipstick Traces, The Old, Weird America, and The History of Rock 'n' Roll in Ten Songs. With Werner Sollors he is the editor of A New Literary History of America. He was born in the Middle West, in San Francisco and lives in Oakland, CA.
Praise For…
---
"Astute, challenging, and far-reaching."—Kirkus Reviews, starred review
"[Marcus'] smart, singular book gives us invigorating new ways to think about Fitzgerald's iconic novel."—Kevin Canfield, San Francisco Chronicle
"Greil Marcus is one of our greatest living cultural critics. Not only is this a wildly original essay on one of America's most revered novels—it's also a fitting capstone to his oeuvre."—James Miller
"Now more than ever, we need to think long and hard about our collective national fantasies. There's no one better suited to this task than Greil Marcus."—David Treuer, author of The Heartbeat of Wounded Knee
"With history, with narrative flourish, and with thoughtfully woven connective tissue, Greil Marcus takes The Great Gatsby and gives it a newer, richer life well beyond the one it has already lived."—Hanif Abdurraqib, author of Go Ahead in The Rain: Notes to A Tribe Called Quest
"Greil Marcus's prose has an electric wondering urgency; the artworks under description crackle and glow, illuminating whole landscapes of history and culture. This method has never found a better home than Gatsby. The result kept me up all night."—Jonathan Lethem, author of The Ecstasy of Influence
"Under the Red White and Blue is a soaring, roaring song of a book. The pretext is The Great Gatsby, but the value comes in riding along as Marcus beats back into the past and the fate of America."—David Thomson, author of The New Biographical Dictionary of Film