Freedom in White and Black: A Lost Story of the Illegal Slave Trade and Its Global Legacy (Hardcover)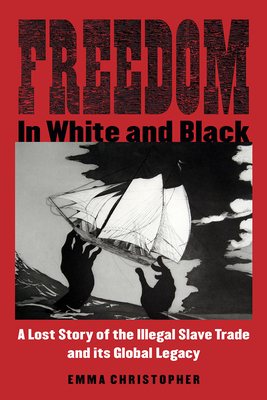 List Price: $29.95
Our Price: $16.00
(Save: $13.95 47%)
Description
---
By 1808, both Britain and the United States had passed laws outlawing the transatlantic slave trade. Yet the trade covertly carried on. In the summer of 1813, in what is now Liberia, a compound of slave pens was bursting with sick and anguished captives, guarded by other African slaves. As a British patrol swooped down on the illicit barracoon, the slavers burned the premises to the ground, hoping to destroy evidence.

This story can be told because of an exceptional trove of court documents that provides unparalleled insight into one small link in the great, horrific chain of slavery. Emma Christopher follows a trail of evidence across four continents to examine the lives of this barracoon's owners, their workers, and their tragic human merchandise. She reveals how an American, Charles Mason, escaped justice, while British subjects Robert Bostock and John McQueen were arrested. In court five African men—Tamba, Tom Ball, Yarra, Noah, and Sessay—courageously testified against their former owners/captors. They, and 233 other liberated men, women, and children, were relocated to Freetown, Sierra Leone. There they endured harsh lives of "freedom," while the punishment of Bostock and McQueen was fleeting.

From the fragmented facts of these lives, Christopher sheds fascinating light on the early development of the nations of Sierra Leone, Liberia, and Australia (where Bostock and McQueen were banished) and the role of former slaves in combatting the illegal trade.
About the Author
---
Emma Christopher is a Scientia Fellow at the University of New South Wales, Australia. Her books include Slave Ship Sailors and Their Captive Cargoes, 1730–1808; A Merciless Place: The Fate of Britain's Convicts after the American Revolution, winner of the Kay Daniels Prize of the Australian Historical Association; and Many Middle Passages: Forced Migration and the Making of the Modern World.
Praise For…
---
"A compelling and entirely unique glimpse into the daily operation of a slave-trading business on the West African coast, including accounts of individual British and American slavers, enslaved Africans employed on the coast, and captive Africans who narrowly escaped the middle passage." —Rebecca Shumway, author of The Fante and the Transatlantic Slave Trade
"An extraordinary achievement. By following the paper trail of a single West African slave-trading business, Christopher opens a window onto the shadowy world of illicit slavers and those they enslaved after the British abolition of the trade in 1807. Indeed, she has found the only known first-hand accounts from Africans employed in Sierra Leone's slave factories." —Randy J. Sparks, author of Where the Negroes Are Masters