Wood Hicks and Bark Peelers: A Visual History of Pennsylvania's Railroad Lumbering Communities; The Photographic Legacy of William T. Clarke (Keystone Books) (Hardcover)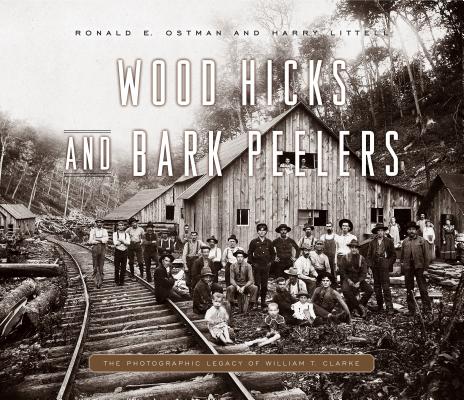 Description
---
In Wood Hicks and Bark Peelers, Ronald E. Ostman and Harry Littell draw on the stunning documentary photography of William T. Clarke to tell the story of Pennsylvania's lumber heyday, a time when loggers serving the needs of a rapidly growing and globalizing country forever altered the dense forests of the state's northern tier.
Discovered in a shed in upstate New York and a barn in Pennsylvania after decades of obscurity, Clarke's photographs offer an unprecedented view of the logging, lumbering, and wood industries during the late nineteenth and early twentieth centuries. They show the great forests in the process of coming down and the trains that hauled away the felled trees and trimmed logs. And they show the workers--cruisers, jobbers, skidders, teamsters, carpenters, swampers, wood hicks, and bark peelers--their camps and workplaces, their families, their communities. The work was demanding and dangerous; the work sites and housing were unsanitary and unsavory. The changes the newly industrialized logging business wrought were immensely important to the nation's growth at the same time that they were fantastically--and tragically--transformative of the landscape.
An extraordinary look at a little-known photographer's work and the people and industry he documented, this book reveals, in sharp detail, the history of the third phase of lumber in America.
About the Author
---
Ronald E. Ostman and Harry Littell have collaborated on a number of books, most recently (with Mary Jordan and Joyce Hatch) Dear Friend Amelia: The Civil War Letters of Private John Tidd and Great Possibilities: 150 Photographs by Verne Morton. Ostman is Graduate Professor of Communication Emeritus, Cornell University. Littell is Associate Professor and Chair of Photography, Tompkins Cortland Community College, Dryden, New York.
UPB open Tuesday through Friday 1PM - 6PM, Saturday Noon - 5pm
2430 Bancroft Way
The store known for serving pure brain food has returned to our old digs for a few months to sell down inventory and bid fare thee well to our decades of in-store customers.
Days and hours subject to change.
Note: This site lists what's available for special order from Ingram Content Group.
Visit our pages at Alibris or Biblio to survey in-store stock priced above $19.95.
Discount applies only to in-store purchases.
Cafe Ohlone
Once hosted by UPB, Cafe Ohlone now serves guests outside the Hearst Museum of Anthropology on the Cal campus.
Savor the foods which characterized east bay cuisine for thousands of years, before European contact. Brought to you by Mak'amham.