Novacene: The Coming Age of Hyperintelligence (Paperback)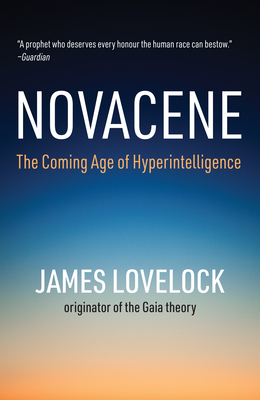 Description
---
At 100-years-old, the originator of the Gaia theory welcomes the takeover of artificial intelligence, and offers a mischievous, wit-filled, and scientifically backed vision of a future epoch in which humans and AI together will help the Earth survive--no extraterrestrial influence necessary.

Far from visions of green bodied extraterrestrials, the violent machine takeovers found in Sci Fi, and pods of the mega-wealthy fleeing to Mars, Wollaston Medal winner James Lovelock explores the Novacene--a new age in which beings will emerge from existing artificial intelligence systems. Leaving the Anthropocene--the age in which humans acquired planetary-scale technologies--behind, the Novacene introduces beings that will think 10,000 times faster than we do and they will regard us as we now regard plants. Still in need of planetary cooling systems to defend them from the sun, these hyperintelligent beings will be as dependent on the health of the planet as we are--making us partners in defending Gaia. Perhaps, he speculates, the Novacene could even be the beginning of a process that will finally lead to intelligence suffusing the entire cosmos. At the age of 100, James Lovelock has produced the most important and compelling work of his life.
About the Author
---
James Lovelock is the originator of the Gaia hypothesis (now Gaia theory). His many books on the subject include Gaia: A New Look at Life on Earth, The Revenge of Gaia, The Vanishing Face of Gaia, and A Rough Ride to the Future. The author of more than 200 scientific papers, he was elected a Fellow of the Royal Society in 1974.