Before you buy…
We're glad to again service customers, even though our former store front has closed and we operate this web store under reduced services.
Just scroll to the bottom to review limits placed on orders. .
Days of Awe: Reimagining Jewishness in Solidarity with Palestinians (Paperback)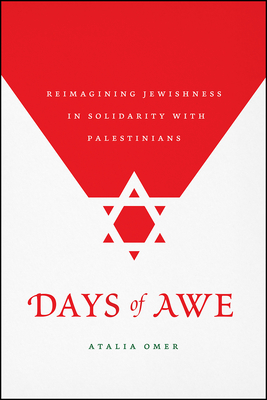 Email or call for price
Ships from Warehouse, Usually in 1-8 Days
Description
---
For many Jewish people in the mid-twentieth century, Zionism was an unquestionable tenet of what it meant to be Jewish. Seventy years later, a growing number of American Jews are instead expressing solidarity with Palestinians, questioning old allegiances to Israel. How did that transformation come about? What does it mean for the future of Judaism?

In Days of Awe, Atalia Omer examines this shift through interviews with a new generation of Jewish activists, rigorous data analysis, and fieldwork within a progressive synagogue community. She highlights people politically inspired by social justice campaigns including the Black Lives Matter movement and protests against anti-immigration policies. These activists, she shows, discover that their ethical outrage at US policies extends to Israel's treatment of Palestinians. For these American Jews, the Jewish history of dispossession and diaspora compels a search for solidarity with liberation movements. This shift produces innovations within Jewish tradition, including multi-racial and intersectional conceptions of Jewishness and movements to reclaim prophetic Judaism. Charting the rise of such religious innovation, Omer points toward the possible futures of post-Zionist Judaism.
About the Author
---
Atalia Omer is associate professor of religion, conflict, and peace studies at the Kroc Institute for International Peace Studies and the Keough School of Global Affairs at the University of Notre Dame.
 
Praise For…
---
"From social media to journals and Shabbat dinner tables, critique of Israel, and of Zionism more generally, continues to be an explosive issue. Atalia Omer enters this explosive terrain in an attempt to broaden our understanding of the American context of the Jewish progressive left and the way it has cultivated new aspects of Jewish identity and religion. The title itself, Days of Awe, speaks loudly (in the Jewish liturgical calendar these are the days surrounding Rosh Hashanah and Yom Kippur, focused on repentance and reflection), and among some it suggests a resistance to the grand narrative of pro-Israelism that dominates the American-Jewish landscape. What Omer does in Days of Awe is innovative on several levels. First, most studies that address the question of Jewish progressivism and religion do so either from the standpoint of historical, cultural, and legal studies, or from a more philosophical perspective on Zionism. . . . Days of Awe offers us a deeply personal and well-informed ethnographic study founded on interviews with Jewish-Palestinian Solidarity movement participants."
— Los Angeles Review of Books
"Days of Awe is a timely, compelling and indispensable reading for scholars and activists wishing to explore the deep potentialities of these new networks. In her book, the author shows that the new generations have not been idly drifting away from their identity. On the contrary, they have been cooking up a much more radical project, confronting the reified values of US Jewry, and re-imagining their identity. At the center of this redefinition, Omer argues, there is an ethical turn to solidarity with Palestinians. . . . Days of Awe an exceptional, non-parochial text, which raises a vital contribution to multiple fields including Jewish studies, critical theories of religion, peace/conflict studies and, ultimately, political theology."
— Political Theology
"Days of Awe tells a story that deserves to be told – that of Jewish activists who, out of outrage and love and sometimes heartbreak, turn from Zionism or apathy to Palestine solidarity work, and in doing so, how they are transforming Judaism and Jewishness. . . . Days of Awe presents thought-provoking stories from a growing movement of Jewish activists who confront particular mazes of relationality and intersectionality in their political work and cultural production."
— Ethnic and Racial Studies
"For scholars working at the intersection of religion and politics, Omer's argument makes an important contribution, showing how 'religion participates in transformative social movement' and the reverse. . . . The book is well-researched and well argued with rich analysis."
— Journal of the American Academy of Religion
 
"In Days of Awe, Atalia Omer offers a brilliant analysis of the religious as well as political stakes in American Jewish activism on behalf of Palestinians. As a participant /observer and an Israeli living in the United States, Omer combines personal reflections with an ethnographic frame and sophisticated theoretical analysis to explore the way one non-Zionist religious community grapples with its deep commitment to Jewish life and its equally profound devotion to a Jewishly informed critique of injustice. Omer shows that what is at stake is not simply political, but a re-fashioning of Jewishness itself, understood through the lens of collective repentance and self-criticism. A significant contribution to an often overly simplified and politically charged debate in American Jewry."
— Shaul Magid, Indiana University
"Atalia Omer's Days of Awe is a very important book on a developing, increasingly non-marginal form of the life of American Jewry. An intelligent, searching investigation of new non-Zionist and anti-Zionist activism among American Jews committed to their Jewishness, it documents a movement toward a re-vision of that Jewishness itself. In particular, it challenges 'white' leftist Jewish activists to take seriously their own privilege vis-a-vis other Jews in activating their own intersectional critiques."
— Daniel Boyarin, University of California, Berkeley
"Days of Awe captures and holds the reader through an ethically rewarding journey into new understandings of diasporic identities, cosmopolitan multiculturalism, and the possibilities and problems of religious and political pluralism in the attempt to construct peace and justice. The book speaks across disciplinary boundaries to provide a model of sophisticated conceptual analysis and deep, thorough empirical research on critical issues in religious studies, ethics, and peace building that are relevant across the social sciences and humanities."
— Cecelia Lynch, University of California, Irvine
"In Days of Awe, Omer brings together interviews with activists, historical analysis, and theoretical interventions (drawing from religious studies and social movement theory, among other disciplines), all in the service of one of the first extended studies of this growing movement of American Jews standing against the Israeli occupation, and standing up for justice for Palestinians."
— Nathan Goldman
"Fascinating."
— Robert J. Samuelson
"It is conceivable, perhaps even likely, that the U.S. will never again see such a period of supercharged growth as it did in the second half of the 20th century, when it benefited from the tailwinds of life-changing innovation and abundant labor. The lesson of Fully Grown is that perhaps it doesn't need to."
— Strategy and Business
STOREFRONT CLOSED FOR REGULAR BUSINESS
Nevertheless, UPB provides ship-to-home service.
Unless and until we move our on-line fulfillment team to different premises, everything you purchase from us ships from warehouses outside of Berkeley.
Much of what we used to carry on store shelves is available, except for very expensive books, used books, and titles fallen between printings.
A number of limitations apply during this period of reduced operations:
Only orders that subtotal under $75.00 will ship.
Thus, we may remove items from a multi-book order and ask you to resubmit them on a separate order.
Sometimes we may have to split an order because books are stocked at different warehouses. Sorry, it's impossible to tell in advance when this may happen.
Credit card orders only
Many high demand titles ship fairly quickly. Most other titles travel from back east, adding 2 to 3 days to delivery
Althoug we love you in Canada, Latin America, and else where, U.S. orders only.
Certain publishers set low margins on certain titles. Sorry, we've had to raise prices on these, some we don't offer at all.
You can also purchase eBooks and audio books through us. Distributed by Hummingbird, they include publications from the major trade publishers. Just access the menu link or the sidebar image above.
We greatly appreciate your support of the store with your book orders. Need a book without our current shopping restrictions? We recommend Bookshop. View our affiliate page, then search for whatever book you'd like.
---
Should you have questions, email us via our contact form. Since none of will be keeping regular hours, it may take a day or two to get back with you.
The Cafe Ohlone has closed for the duration of the epidemic. They will probably reopen at a different location when they do.
From 1974, University Press Books has stoked the blaze of well over ten thousand minds on fire, carrying new scholarship published by the great university presses in the English-speaking world.
Since our founding, we've added quality fiction and creative non-fiction to our selection, without drfiting from our mission to showcase top new texts introduced by university presses.
Order from us. Visit us. Let well-wrought words churn and burn within.