Nightmarch: Among India's Revolutionary Guerrillas (Paperback)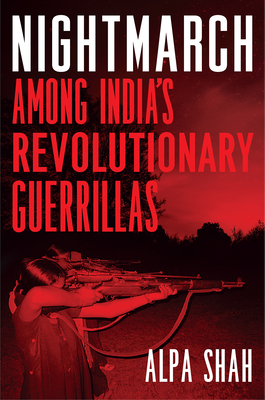 Description
---
Anthropologist Alpa Shah found herself in an active platoon of Naxalites—one of the longest-running guerrilla insurgencies in the world. The only woman, and the only person without a weapon, she walked alongside the militants for seven nights across 150 miles of dense, hilly forests in eastern India. Nightmarch is the riveting story of Shah's journey, grounded in her years of living with India's tribal people, an eye-opening exploration of the movement's history and future and a powerful contemplation of how disadvantaged people fight back against unjust systems in today's world.
 
The Naxalites have fought for a communist society for the past fifty years, caught in a conflict that has so far claimed at least forty thousand lives. Yet surprisingly little is known about these fighters in the West. Framed by the Indian state as a deadly terrorist group, the movement is actually made up of Marxist ideologues and lower-caste and tribal combatants, all of whom seek to overthrow a system that has abused them for decades. In Nightmarch, Shah shares some of their gritty untold stories: here we meet a high-caste leader who spent almost thirty years underground, a young Adivasi foot soldier, and an Adivasi youth who defected. Speaking with them and living for years with villagers in guerrilla strongholds, Shah has sought to understand why some of India's poor have shunned the world's largest democracy and taken up arms to fight for a fairer society—and asks whether they might be undermining their own aims.
 
By shining a light on this largely ignored corner of the world, Shah raises important questions about the uncaring advance of capitalism and offers a compelling reflection on dispossession and conflict at the heart of contemporary India.
About the Author
---
Alpa Shah is associate professor of anthropology at the London School of Economics and Political Science. She is the author of In the Shadows of the State and a coauthor of Ground Down by Growth.
 
Praise For…
---
"An exceptional undertaking. Nightmarch provides one of the most nuanced, informed accounts yet of this strange and awful conflict. . . . A considered, sympathetic, and balanced analysis—[it] is one of the few accounts we possess that gives [the tribal communities and the Naxalites] a voice."
 
— Guardian
"The book is engrossing and the characters will haunt you. . . . A very nuanced study that seeks to understand—and point towards solutions to one of India's most intractable conflicts."
— The Hindu
"Nightmarch is a work of literary non-fiction, vividly evocative, weaving descriptions of the journey with five character-portraits that help to illuminate Shah's thoughtful and nuanced discussion of the uprising's social and cultural background. . . . In these dark times, as Modi's government ratchets up talk of the 'Maoist terrorist threat', Nightmarch provides an important reminder of what is at stake."
— New Left Review
"'I've enormously enjoyed and admired Shah's careful, rich, sympathetic account of the Maoist insurgency in India. . . . A brave and necessary work."
— Best Books of 2018, New Statesman
"A deftly detailed history and contemporary context arranged according to [Shah's] week-long, nighttime trek across the country with a band of these revolutionaries. As readers accompany the author, they are introduced to some of the participants in the struggle and listen to the stories of why they fight perceived injustice. . . . [A] fascinating, readable text. Recommended."
— Choice
"An 'everyone must read' book. In this vibrant piece of anthropological work, Shah takes us into one of the most unreported rebellions in contemporary India with wisdom and courage. Her analysis of the motivations, modalities of implementation and failures of Naxalites' struggle shapes a new history of both the exploitation they suffered and their fight for liberation. Written in a way that provides food for thought and, at the same time, moves hearts, this book is an example of the unique contribution anthropologists can bring to understanding the world we live in, and improving it."
— Public Anthropologist
"Riveting, finely textured, and acutely perceptive, Nightmarch is a model of what ethnography can offer. Shah captures both the Naxalite insurgency's contradictions and its human promise against the background of the crippling indignities and exclusions of Indian society."
— James C. Scott, author of Against the Grain: A Deep History of the Earliest States
"One of the most gripping, engaging, and accessible books I've encountered on the Naxalites. Shah fearlessly bears witness to the upheavals caused by India's rising inequalities, while also asking many urgent, difficult questions."
— Meena Kandasamy, author of When I Hit You
"[Nightmarch] has many layers. It covers the history of the Naxalite movement in India, the motivations of its leaders, the incentives that drive adivasis to become their foot soldiers, the contradictions within the movement, the social churn among the adivasis themselves, and the many ways in which academics like Shah regard these groups."
— Bloomberg Quint
"Nightmarch is an outstanding work, combining ethnographic depth with almost cinematic vividness."
— Sherry B. Ortner, author of Anthropology and Social Theory
"Brave, brilliant, and beautifully written. . . . an anthropological tour de force."
— Philippe Bourgois, author of In Search of Respect