Conspiracies of Conspiracies: How Delusions Have Overrun America (Hardcover)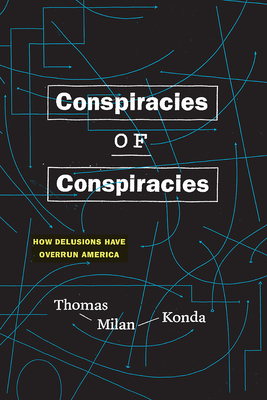 Description
---
It's tempting to think that we live in an unprecedentedly fertile age for conspiracy theories, with seemingly each churn of the news cycle bringing fresh manifestations of large-scale paranoia. But the sad fact is that these narratives of suspicion—and the delusional psychologies that fuel them—have been a constant presence in American life for nearly as long as there's been an America.

In this sweeping book, Thomas Milan Konda traces the country's obsession with conspiratorial thought from the early days of the republic to our own anxious moment. Conspiracies of Conspiracies details centuries of sinister speculations—from antisemitism and anti-Catholicism to UFOs and reptilian humanoids—and their often incendiary outcomes. Rather than simply rehashing the surface eccentricities of such theories, Konda draws from his unprecedented assemblage of conspiratorial writing to crack open the mindsets that lead people toward these self-sealing worlds of denial. What is distinctively American about these theories, he argues, is not simply our country's homegrown obsession with them but their ongoing prevalence and virulence. Konda proves that conspiracy theories are no harmless sideshow. They are instead the dark and secret heart of American political history—one that is poisoning the bloodstream of an increasingly sick body politic.
About the Author
---
Thomas Milan Konda is emeritus professor of political science at SUNY Plattsburgh.
Praise For…
---
"The theories Konda weighs and finds wanting are fascinating in their perversity, from chemtrails to climate change deniers. A book that deserves wide circulation and consideration."
— Kirkus Reviews
"Offers insightful context for why the United States has become as obsessed with conspiracy theories as it is. . . . By weaving historical literature with contemporary studies, Konda is able to draw clear connections between the past and the present. . . . His objective and academic approach ultimately demystifies elements of alt-right media that, for many, seemed to come out of nowhere during the 2016 presidential election."
— Ploughshares
"Incisive and engaging. . .  Konda's assessment of the "new dynamics" of conspiracy theories in contemporary US politics is a significant contribution. Written with a clarity of expression rare in academic writing, the book is accessible to a wide readership. . . . Highly recommended."
— Choice
"Conspiracies of Conspiracies is clearly written and deeply researched, a fine-grained account of American conspiracism from the earliest years of the Republic to the present day. There is scarcely a manifestation that Konda has omitted, and periods that others have merely sketched out are presented here in a detail that can be found in few other places. The times being what they are, the subject is (alas!) likely to remain of interest for many years to come."
— Michael Barkun
"Bridging the divide between quantitative and qualitative approaches to the topic, Konda provides a comprehensive overview of the cultural and political work that conspiracy theories have done in the United States over the past two hundred years. He explains why these theories have recently made a comeback on the political stage and dissects a media landscape that increasingly tends to detect conspiracism everywhere."
— Michael Butter
"There is plenty to be discovered here. . . Konda's survey is perhaps the most comprehensive attempt yet to record and understand the phenomenon of conspiracy theory as it applies to American politics. . . You won't find a catalog of mad musings in Conspiracies of Conspiracies; it's largely a sober and reflective book (although Konda exercises a sly, dry humor on occasion) on a subject that is increasingly contentious, and increasingly central, in the discourses on American politics, science and medicine in particular. . . . Konda manages to give a clear picture of a subject that is more often obscured under a deluge of intensely partisan opinions."
— Fortean Times