Becoming Political: Spinoza's Vital Republicanism and the Democratic Power of Judgment (Hardcover)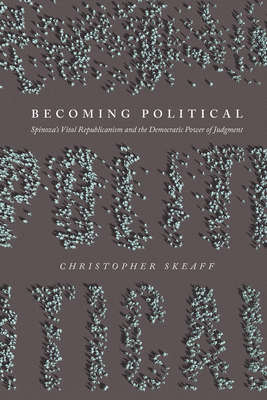 Description
---
In this pathbreaking work, Christopher Skeaff argues that a profoundly democratic conception of judgment is at the heart of Spinoza's thought. Bridging Continental and Anglo-American scholarship, critical theory, and Spinoza studies, Becoming Political offers a historically sensitive, meticulous, and creative interpretation of Spinoza's texts that reveals judgment as the communal element by which people generate power to resist domination and reconfigure the terms of their political association. If, for Spinoza, judging is the activity which makes a people powerful, it is because it enables them to contest the project of ruling and demonstrate the political possibility of being equally free to articulate the terms of their association. This proposition differs from a predominant contemporary line of argument that treats the people's judgment as a vehicle of sovereignty—a means of defining and refining the common will. By recuperating in Spinoza's thought a "vital republicanism," Skeaff illuminates a line of political thinking that decouples democracy from the majoritarian aspiration to rule and aligns it instead with the project of becoming free and equal judges of common affairs. As such, this decoupling raises questions that ordinarily go unasked: what calls for political judgment, and who is to judge? In Spinoza's vital republicanism, the political potential of life and law finds an affirmative relationship that signals the way toward a new constitutionalism and jurisprudence of the common.
About the Author
---
Christopher Skeaff earned a doctorate in political theory from Northwestern University and has held research and teaching posts in the University of Michigan's Society of Fellows and department of political science. He is currently training as a psychotherapist.
Praise For…
---
"Spinoza has never been 'fashionable,' but over the past decade there has unquestionably been an important renewed interested in the relevance of his work for contemporary theory and politics. Any reader interested in (re)discovering Spinoza should start with Christopher Skeaff's erudite yet supple Becoming Political, a book that not only offers a fresh interpretation of Spinoza as a 'vital republican' but also mobilizes that reading to engage rigorously and meaningfully with a variety of strands of contemporary political theory."
— Samuel A. Chambers, Johns Hopkins University
"Becoming Political is a very impressive and fascinating work, advancing an interesting new reading of Spinoza's conception of right and law. This highly readable book is organized around Spinoza's conception of judgment and its political implications. Many other and more comprehensive works on Spinoza and politics or Spinoza and legal theory have already touched on this; but I know of no other book that isolates this issue so methodically and gives a comparably strong reading of it. This book will definitely make a serious and lasting contribution to current Spinoza scholarship and political philosophy and theory in general."
— Martin Saar, Goethe University, Frankfurt, Germany