Before you buy…
We're glad to again service customers, even though our former store front has closed and we operate this web store under reduced services.
Just scroll to the bottom to review limits placed on orders. .
The Politics of Petulance: America in an Age of Immaturity (Hardcover)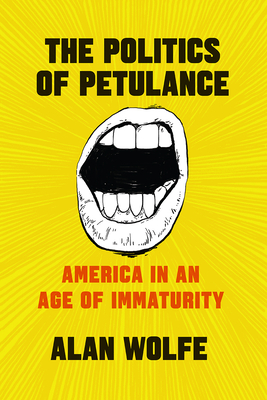 $25.00
Ships from Warehouse, Usually in 1-8 Days
Description
---
How did we get into this mess? Every morning, many Americans ask this as, with a cringe, they pick up their phones and look to see what terrible thing President Trump has just said or done. Regardless of what he's complaining about or whom he's attacking, a second question comes hard on the heels of the first: How on earth do we get out of this?
 
Alan Wolfe has an answer. In The Politics of Petulance he argues that the core of our problem isn't Trump himself—it's that we are mired in an age of political immaturity. That immaturity is not grounded in any one ideology, nor is it a function of age or education. It's in an abdication of valuing the character of would-be leaders; it's in a failure to acknowledge, even welcome the complexity of government and society; and it's in a loss of the ability to be skeptical without being suspicious. In 2016, many Americans were offered tantalizingly simple answers to complicated problems, and, like children being offered a lunch of Pop Rocks and Coke, they reflexively—and mindlessly—accepted.
 
The good news, such as it is, is that we've been here before. Wolfe reminds us that we know how to grow up and face down Trump and other demagogues. Wolfe reinvigorates the tradition of public engagement exemplified by midcentury intellectuals such as Richard Hofstadter, Reinhold Niebuhr, and Lionel Trilling—and he draws lessons from their battles with McCarthyism and conspiratorial paranoia. Wolfe mounts a powerful case that we can learn from them to forge a new path for political intervention today.
 
Wolfe has been thinking and writing about American life and politics for decades. He sees this moment as one of real risk. But he's not throwing up his hands; he's bracing us. We've faced demagogues before. We can find the intellectual maturity to fight back. Yes we can.
 
About the Author
---
Alan Wolfe is professor emeritus of political science at Boston College as well as a contributing editor to the Wilson Quarterly. He is the author of One Nation, After All: What Middle-Class Americans Really Think About God, Country, Family, Racism, Welfare, Immigration, Homosexuality, Work, the Right, the Left, and Each Other, a 1999 New York Times Notable Book of the Year.
Praise For…
---
"Wolfe describes and examines a host of postwar political thinkers, many of whom, like Hannah Arendt and Joseph Schumpeter, had come from the horrors of Europe. . . . Wolfe is at his best when he is discussing these writers, first-class thinkers who responded powerfully to their era's challenges. He contrasts their response to what he sees as the lamer reaction of the contemporary intellectual community to Trump--and suggests we no longer have a core of all-star intellectuals but instead a shallower group of 'thought leaders.' And he tries to draw lessons from the writing of the old school of mature liberals to apply to the present day, a time, he says, when our political immaturity has led to the politics of petulance. . . . The Politics of Petulance join[s] an impressive array of books and essays that may, someday, have a future intellectual historian using them as examples to lament the fact that his or her contemporaries are not as eloquent or important as the group that arose in the Trump era to combat the threats to our way of life."
 
— Norm Ornstein
"Not merely a withering indictment of Donald Trump and his most ardent supporters, but of an entire American body politic mired in immaturity."
 
— Charleston Post and Courier
"A comprehensive polemic that references dozens of distinguished thinkers throughout history while offering a withering view on the maturity of this nation. . . . Wolfe's message is that America needs to grow up. It has to look for character in its leaders and not seek simple solutions to complex problems. . . . Wolfe has produced a work that explores America's intellectual history and analyzes the Trump phenomenon in a way that will advance the understanding of how we got in this mess."
— Splice Today
"A withering broadside against the immaturity that infests American politics, revealing itself in populism and demagoguery. Both the left and the right take it on the chin in this tough-minded analysis by Wolfe. . . . This is a persuasive and alarming book."
— Kirkus Reviews
"Wisdom is rare, political wisdom more so. Writing with characteristic lucidity and deep care for democracy's future, Alan Wolfe's mobilization of intellectual heroes and acute observations about popular suspicion and populist politics, narcissistic leadership and irresponsible simplification, offers an uncommon exception. By instructing and inspiring, this book's quest for democratic maturity will stimulate rich conversation about knowledge and responsibility, not only within the academy but well beyond." 
— Ira Katznelson, author of Fear Itself
"Alan Wolfe amply vindicates his position as one of our country's most valuable public intellectuals in this fascinating analysis of our current political condition. The heart of the book is a valuable reexamination of a group of prominent mid-twentieth-century intellectuals, most importantly Richard Hofstadter and Daniel Bell, and Wolfe's delineation of what he labels a 'mature liberalism' suitable for a complex political system and which he fears is lacking today. Some of his older readers will still remember those Wolfe writes about, but, like Wolfe himself, may look at them in a new light; younger readers will find an introduction to a group of thinkers who still have something to teach. For all readers, though, it will offer a chance to imbibe Wolfe's own thoughtful reflections about a country he loves and is correctly worried about."
 
— Sanford Levinson, An Argument Open to All: Reading the Federalist in the 21st Century
"In The Politics of Petulance, Alan Wolfe  delivers a bracing piece of advice--take a look in the mirror, whether you voted for Donald Trump or no--to  every American agonizing over the question of how our country came to be governed by an immature, ignorant bully. Wolfe, a longtime intellectual provocateur, has a knack for illuminating and elucidating the beating heart of his main argument--and this is especially valuable for readers who sometimes disagree with him, as I sometimes do, about particular aspects of intellectual history. His most important observation in this timely book is that Americans who waste their time disdaining Washington and blaming everyone else for Trumpism need once again to stop ignoring the better angels of our history and recognize the noble possibilities of politics."


 
— Susan Jacoby, author of The Age of American Unreason in a Culture of Lies
STOREFRONT CLOSED FOR REGULAR BUSINESS
Nevertheless, UPB provides ship-to-home service.
Unless and until we move our on-line fulfillment team to different premises, everything you purchase from us ships from warehouses outside of Berkeley.
Much of what we used to carry on store shelves is available, except for very expensive books, used books, and titles fallen between printings.
A number of limitations apply during this period of reduced operations:
Only orders that subtotal under $75.00 will ship.
Thus, we may remove items from a multi-book order and ask you to resubmit them on a separate order.
Sometimes we may have to split an order because books are stocked at different warehouses. Sorry, it's impossible to tell in advance when this may happen.
Credit card orders only
Many high demand titles ship fairly quickly. Most other titles travel from back east, adding 2 to 3 days to delivery
Althoug we love you in Canada, Latin America, and else where, U.S. orders only.
Certain publishers set low margins on certain titles. Sorry, we've had to raise prices on these, some we don't offer at all.
You can also purchase eBooks and audio books through us. Distributed by Hummingbird, they include publications from the major trade publishers. Just access the menu link or the sidebar image above.
We greatly appreciate your support of the store with your book orders. Need a book without our current shopping restrictions? We recommend Bookshop. View our affiliate page, then search for whatever book you'd like.
---
Should you have questions, email us via our contact form. Since none of will be keeping regular hours, it may take a day or two to get back with you.
The Cafe Ohlone has closed for the duration of the epidemic. They will probably reopen at a different location when they do.
From 1974, University Press Books has stoked the blaze of well over ten thousand minds on fire, carrying new scholarship published by the great university presses in the English-speaking world.
Since our founding, we've added quality fiction and creative non-fiction to our selection, without drfiting from our mission to showcase top new texts introduced by university presses.
Order from us. Visit us. Let well-wrought words churn and burn within.