Poetry Cocktail Hour!
A Benefit for UPB
June 12th, 5PM to 6:30PM on Zoom
Charlie Jane Anders will present an evening of poetry, composed and performed by luminaries Amber Tamblyn, Alejandro Murguia, Jack Foley, Stephanie Burt, Baruch Porras-Hernandez and Jessy Randall.
The Federal Impeachment Process: A Constitutional and Historical Analysis, Third Edition (Paperback)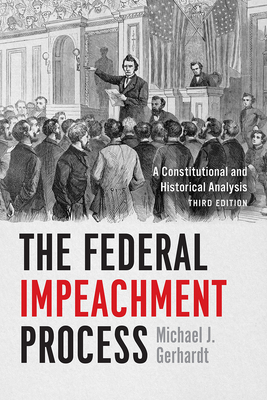 Email or call for price
Ships from Warehouse, Usually in 1-8 Days
Description
---
As President Trump and Congressional Democrats battle over the findings of the Mueller report, talk of impeachment is in the air. But what are the grounds for impeaching a sitting president? Who is subject to impeachment? Is impeachment effective as a safeguard against presidential misconduct? What challenges does today's highly partisan political climate pose to the impeachment process, and what, if any, meaningful alternatives are there for handling presidential misconduct? 

For more than twenty years, The Federal Impeachment Process has served as the most complete analysis of the constitutional and legal issues raised in every impeachment proceeding in American history. Impeachment, Michael J. Gerhardt shows, is an inherently political process designed to expose and remedy political crimes—serious breaches of duty or injuries to the Republic. Subject neither to judicial review nor to presidential veto, it is a unique congressional power that involves both political and constitutional considerations, including the gravity of the offense charged, the harm to the constitutional order, and the link between an official's misconduct and duties. For this third edition, Gerhardt updates the book to cover cases since President Clinton, as well as recent scholarly debates. He discusses the issues arising from the possible impeachment of Donald Trump, including whether a sitting president may be investigated, prosecuted, and convicted for criminal misconduct or whether impeachment and conviction in Congress is the only way to sanction a sitting president; what the "Emoluments Clause" means and whether it might provide the basis for the removal of the president; whether gross incompetence may serve as the basis for impeachment; and the extent to which federal conflicts of interest laws apply to the president and other high ranking officials.

Significantly updated, this book will remain the standard work on the federal impeachment process for years to come.
About the Author
---
Michael J. Gerhardt is the Samuel Ashe Distinguished Professor of Constitutional Law at the University of North Carolina School of Law in Chapel Hill.