Before you buy…
We're glad to again service customers, even though our former store front has closed and we operate this web store under reduced services.
Just scroll to the bottom to review limits placed on orders. .
Wading Right In: Discovering the Nature of Wetlands (Paperback)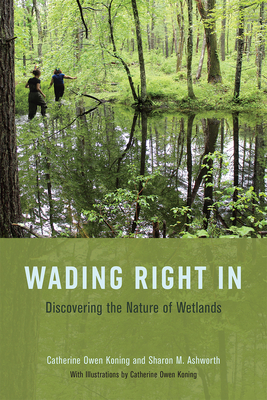 Email or call for price
Sorry, Currently Unavailable
Description
---
Where can you find mosses that change landscapes, salamanders with algae in their skin, and carnivorous plants containing whole ecosystems in their furled leaves? Where can you find swamp-trompers, wildlife watchers, marsh managers, and mud-mad scientists?  In wetlands, those complex habitats that play such vital ecological roles.

In Wading Right In, Catherine Owen Koning and Sharon M. Ashworth take us on a journey into wetlands through stories from the people who wade in the muck. Traveling alongside scientists, explorers, and kids with waders and nets, the authors uncover the inextricably entwined relationships between the water flows, natural chemistry, soils, flora, and fauna of our floodplain forests, fens, bogs, marshes, and mires. Tales of mighty efforts to protect rare orchids, restore salt marshes, and preserve sedge meadows become portals through which we visit major wetland types and discover their secrets, while also learning critical ecological lessons.

The United States still loses wetlands at a rate of 13,800 acres per year. Such loss diminishes the water quality of our rivers and lakes, depletes our capacity for flood control, reduces our ability to mitigate climate change, and further impoverishes our biodiversity. Koning and Ashworth's stories captivate the imagination and inspire the emotional and intellectual connections we need to commit to protecting these magical and mysterious places.
About the Author
---
Catherine Owen Koning, PhD, is professor of environmental science and chair of the Division of Natural Sciences at Franklin Pierce University in Rindge, NH.  She has conducted research in wetland ecology, hydrology, and plant ecology in Maine, New Hampshire, California, and Wisconsin. Sharon M. Ashworth, PhD, is an ecologist and writer based in Lawrence, Kansas. After years working in academia and for nonprofits, she now manages an Extension Master Gardener Program for Kansas State University Research and Extension.
Praise For…
---
"Wading Right In is your personal guide to some of the most astounding, essential, fun, and endangered places in the world—areas you can probably find not far from your own backyard, but perhaps never appreciated or understood. Thanks to Koning and Ashworth's engaging stories, vivid descriptions, and professional expertise, my eyes opened anew to the wonder and power of wetlands. This book is not only a joy to read, but a clarion call to protect these vital areas. Wading Right In belongs in the hands of not only every naturalist and outdoorsperson, but every responsible citizen."
— Sy Montgomery, author of "The Soul of an Octopus"
"Wading Right In explores the wondrous nature of wetlands through the rich and personal stories of scores of wetland scientists. Written for a lay reader, Koning and Ashworth's engaging prose is packed with information regarding the incredible diversity and amazing adaptations of wetland species. Anyone who reads this book will be compelled to wade into a nearby wetland to see it with new eyes."
— Tom Wessels, author of "Reading the Forested Landscape"
"What Koning and Ashworth have done is create a book that not only combines stories, but brings in science, law, history, and the future. What a wonderfully fun and educational book. From looking for the eggs of a butterfly under the leaves of sedges in wet meadows to rounding a corner and finding whooping cranes in marshes, to viewing old growth wooded swamps in New Hampshire, this book really achieves its goal: getting the public to see the wonders of wetlands as if they were actually in the field."
— Ingeborg E. Hegemann, professional wetland scientist, senior vice president of the BCS Group, Worcester, Massachusetts
"An enjoyable, inspiring, and motivating read for everyone to understand and appreciate the beauty and wonders of wetlands. . . . The efforts Koning and Ashworth put into this book should be praised. As a coastal wetland ecologist and educator, I have in not a few cases found it challenging to convince students to appreciate, develop a passion for, and enjoy studying highly valuable coastal wetlands that are nonetheless muddy, smelly, and 'ugly' in appearance. I am going to pass along the book that I have just read and enjoyed to the students in my lab in the hope that, after reading it, they will have more fun when they wade into the muck to explore some of the wildest coastal wetlands in the coming summer."
— Current Biology
"Ever dreamt of saving turtles squashed on highways? Of creating clean water and carbon sequestration? Of undoing the havoc humanity has wrought upon nature? Then read Wading Right In. It interprets crucial science for the layman and sometimes reads like a novel, depicting wetland-loving characters irrepressibly driven to protect nature. . . . Authors Ashworth and Koning discuss the science of ecosystem services to assess mitigation, the legal process of compensating wetlands loss in one place by creating wetlands in another. The assessment involves water filtration, flood control, carbon storage, shoreline protection and species diversity—not dry details but valuable tools for activists. This book inspired me as much as Aldo Leopold and Rachel Carson."
— NewPages
"Authors Koning and Ashworth embark on a thorough, yet accessible, treatment of the biology of wetlands, wetland protection and restoration, and the important role of wetlands in maintaining biodiversity and ecological health. They approach their teaching goal by presenting engaging personal stories recorded by diverse subjects, including individuals who live near wetland sites (even kids on neighborhood field trips) as well as scientists and researchers who study wetlands and wetland restoration. The authors provide information in a straightforward way, with minimal technical or scientific jargon and with due attention to making necessary technical terms accessible...Thanks to this friendly presentation style and the authors' craft of storytelling, this book will be attractive to all readers interested in wetlands and wetland biology. Highly recommended."
— K. R. Thompson, Missouri State University
"In this book, Koning and Ashworth take readers into numerous engaging stories of wetland scientists, explorers, and managers who have devoted a lot of their lives to understanding and protecting wetlands...an enjoyable, inspiring, and motivating read for everyone to understand and appreciate the beauty and wonders of wetlands. And the efforts Koning and Ashworth put into this book should be praised."
— Qiang He
STOREFRONT CLOSED FOR REGULAR BUSINESS
Nevertheless, UPB provides ship-to-home service.
Unless and until we move our on-line fulfillment team to different premises, everything you purchase from us ships from warehouses outside of Berkeley.
Much of what we used to carry on store shelves is available, except for very expensive books, used books, and titles fallen between printings.
A number of limitations apply during this period of reduced operations:
Only orders that subtotal under $75.00 will ship.
Thus, we may remove items from a multi-book order and ask you to resubmit them on a separate order.
Sometimes we may have to split an order because books are stocked at different warehouses. Sorry, it's impossible to tell in advance when this may happen.
Credit card orders only
Many high demand titles ship fairly quickly. Most other titles travel from back east, adding 2 to 3 days to delivery
Althoug we love you in Canada, Latin America, and else where, U.S. orders only.
Certain publishers set low margins on certain titles. Sorry, we've had to raise prices on these, some we don't offer at all.
You can also purchase eBooks and audio books through us. Distributed by Hummingbird, they include publications from the major trade publishers. Just access the menu link or the sidebar image above.
We greatly appreciate your support of the store with your book orders. Need a book without our current shopping restrictions? We recommend Bookshop. View our affiliate page, then search for whatever book you'd like.
---
Should you have questions, email us via our contact form. Since none of will be keeping regular hours, it may take a day or two to get back with you.
The Cafe Ohlone has closed for the duration of the epidemic. They will probably reopen at a different location when they do.
From 1974, University Press Books has stoked the blaze of well over ten thousand minds on fire, carrying new scholarship published by the great university presses in the English-speaking world.
Since our founding, we've added quality fiction and creative non-fiction to our selection, without drfiting from our mission to showcase top new texts introduced by university presses.
Order from us. Visit us. Let well-wrought words churn and burn within.