The Rise and Fall of Modern Japanese Literature (Paperback)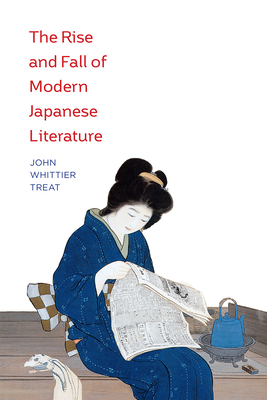 Description
---
The Rise and Fall of Modern Japanese Literature tells the story of Japanese literature from its start in the 1870s against the backdrop of a rapidly coalescing modern nation to the present. John Whittier Treat takes up both canonical and forgotten works, the non-literary as well as the literary, and pays special attention to the Japanese state's hand in shaping literature throughout the country's nineteenth-century industrialization, a half-century of empire and war, its post-1945 reconstruction, and the challenges of the twenty-first century to modern nationhood.
 
Beginning with journalistic accounts of female criminals in the aftermath of the Meiji civil war, Treat moves on to explore how woman novelist Higuchi Ichiyō's stories engaged with modern liberal economics, sex work, and marriage; credits Natsume Sōseki's satire I Am a Cat with the triumph of print over orality in the early twentieth century; and links narcissism in the visual arts with that of the Japanese I-novel on the eve of the country's turn to militarism in the 1930s. From imperialism to Americanization and the new media of television and manga, from boogie-woogie music to Yoshimoto Banana and Murakami Haruki, Treat traces the stories Japanese audiences expected literature to tell and those they did not. The book concludes with a classic of Japanese science fiction a description of present-day crises writers face in a Japan hobbled by a changing economy and unprecedented natural and manmade catastrophes. The Rise and Fall of Japanese Literature reinterprets the "end of literature"—a phrase heard often in Japan—as a clarion call to understand how literary culture worldwide now teeters on a historic precipice, one at which Japan's writers may have arrived just a moment before the rest of us.
 
About the Author
---
John Whittier Treat is professor emeritus in the Department of East Asian Languages and Literatures at Yale University. He is the author of Writing Ground Zero: Japanese Literature and the Atomic Bomb and the novel The Rise and Fall of the Yellow House.
Praise For…
---
"Erudite but saucy, The Rise and Fall of Modern Japanese Literature succeeds in making the history of modern Japanese literature as colorful as the neon-lit back alleys of Tokyo. The book features a broad range of characters, including a Meiji 'poison woman,' Korean nationalists, and a serial killer enamored of anime. As for the final verdict on the future of Japanese literature, Treat wisely leaves it up in the air."
"Treat has chosen literary landmarks that offer him fertile ground for an 'excavation' . . . of the social and economic forces at work on them."