Magic's Reason: An Anthropology of Analogy (Paperback)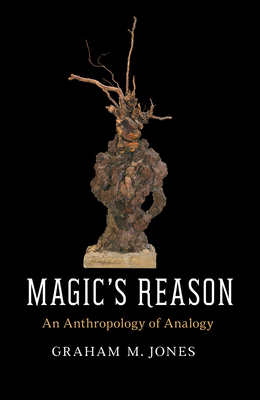 Description
---
In Magic's Reason, Graham M. Jones tells the entwined stories of anthropology and entertainment magic. The two pursuits are not as separate as they may seem at first. As Jones shows, they not only matured around the same time, but they also shared mutually reinforcing stances toward modernity and rationality. It is no historical accident, for example, that colonial ethnographers drew analogies between Western magicians and native ritual performers, who, in their view, hoodwinked gullible people into believing their sleight of hand was divine.

Using French magicians' engagements with North African ritual performers as a case study, Jones shows how magic became enshrined in anthropological reasoning. Acknowledging the residue of magic's colonial origins doesn't require us to dispense with it. Rather, through this radical reassessment of classic anthropological ideas, Magic's Reason develops a new perspective on the promise and peril of cross-cultural comparison. 
About the Author
---
Graham M. Jones is associate professor of anthropology at the Massachusetts Institute of Technology.
 
Praise For…
---
"Magic's Reason is based on a brilliant aperçu—why shouldn't anthropology come to terms with today's secular magic?. . . anthropology can make claims to pursue globalized truths not just because its practices can be learned through training, but because universities and their disciplines are now, as a matter of fact, global, the world being divided into nation-states, almost all of which contain universities, and many of these train and hire ethnographers. Magic and reason have nothing to do with it. But, of course, as Jones's excellent study also shows, such an understanding of anthropology. . . would not mean that the discipline could fully take account of itself and its conditions of emergence. That would still require multifaceted and conceptually subtle ethnohistories of reason's complex relation to magic, of the kind presented so well here."
"Less a symphony and more a suite of dances, the individual chapters hang together as well as they do not necessarily because of thematic development, but more because of Jones's capacity for intellectual counterpoint. An easy read for specialists, this small gem of a book tacks between ethnographic detail and anthropological macro in a very satisfying way indeed."
"Magic's Reason is thoughtful, beautifully written, intellectually sweeping, and theoretically ambitious. The quite persuasive story Jones tells is that primitive magic becomes compelling because those who study it assert a view of the world central to a western vision of reality: that the material world is what is real, and the world of the supernatural, of the immaterial, and even of thought itself, is not real in the same way. This is a peculiar and culturally specific view in the context of world history, and the perennial fascination of magic is that it both challenges this worldview and is embedded in it."
"Acute in his wide and deep reading of earlier as well as contemporary anthropological theories of magic, Jones moves from showman to shaman and back again. We get to see the Algerian Isawi hadra, trance-induced shamanic feats of superhuman powers, through the eyes of Jean-Eugène Robert-Houdin, the mid-nineteenth century father of French magic. This sets the ethnographic tableau against which Magic's Reason relates the emergence of anthropology to such colonial knowledge and to anxieties of the would-be disenchanted West about whether and how to distinguish by degrees 'primitive' versus 'modern' mentalities in the face of the persisting sociocultural ubiquity of occult beliefs and practices and of illusionist entertainment as well as ritual performativity."
"Magic's Reason introduces a fresh element into the well-developed comparativist discourse of the anthropology of magic…and…challenges…the existing boundaries of one of anthropology's most enduring conceptual central places…  Jones has contributed to the anthropology of magic proper; but he has also created an opening relating magic to performance, public education, inchoate delight, and a host of other productive connections."
"Jones' fascinating study shows how not only disenchanted entertainment magic and enchanted mediumistic rituals, but also—and by extension—the anthropological theories that purport to encompass them are related through the notion of skillful tricks…I therefore read Jones' eye-opening work on comparative anthropology as a major contribution to an anthropology of comparison."
"Jones argues that illusionists shaped the anthropology of magic. In developing magic as an amusing pastime for spectators cognizant of being tricked, and in texts and displays that explicitly duplicated or provided explanations for myriad acts purporting to be supernatural, illusionists helped to lead anthropologists down an epistemological garden path…Jones offers a crucial contribution to understanding how some of these associations formed."
"Jones argues 'magic' has played a central role in anthropological theorizing, highlighting the supposed irrationalities of non-Western cultures…Jones extracts from this analysis a historical dialectic of analogy and disanalogy both within the magic institutions of single cultures and in comparisons between whole societies. An…excellent ethnohistory."