The Aeneid (Hardcover)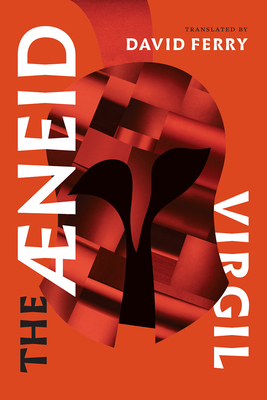 Description
---
"I sing of arms and the man . . . "
 
So begins the Aeneid, greatest of Western epic poems. Virgil's story of the journey of Aeneas has been a part of our cultural heritage for so many centuries that it's all too easy to lose sight of the poem itself—of its brilliantly cinematic depiction of the sack of Troy; the monstrous hunger of the harpies; the intensity of Dido's love for the hero, and the blackness of her despair; and the violence that Aeneas and his men must endure before they can settle in Italy and build the civilization whose roots we still claim as our own.

This new translation brings Virgil's masterpiece newly to life for English-language readers. It's the first in centuries crafted by a translator who is first and foremost a poet, and it is a glorious thing. David Ferry has long been known as perhaps our greatest contemporary translator of Latin poetry, his translations of Virgil's Eclogues and Georgics having established themselves as much-admired standards. He brings to the Aeneid the same genius, rendering Virgil's formal metrical lines into an English that is familiar and alive. Yet in doing so, he surrenders none of the feel of the ancient world that resonates throughout the poem, and gives it the power that has drawn readers to it for centuries. In Ferry's hands, the Aeneid becomes once more a lively, dramatic poem of daring and adventure, of love and loss, of devotion and death. Never before have Virgil's twin gifts of poetic language and urgent, compelling storytelling been presented so powerfully for English-language readers. Ferry's Aeneid will be a landmark, a gift to longtime lovers of Virgil, and the perfect entry point for new readers.
 
"Aurora rose, spreading her pitying light,
And with it bringing back to sight the labors
Of sad mortality, what men have done,
And what has been done to them; and what they must do
To mourn."
 
The ships are ready to sail. The journey, from the fall of Troy to the birth of Rome, is about to begin. Join us.
About the Author
---
Publius Vergilius Maro, called Virgil in English, was a Roman poet of the Augustan period. He wrote three poems central to Latin literature: the Eclogues, the Georgics, and the Aeneid. Even in Virgil's lifetime he was considered one of Rome's greatest poets. According to tradition, Virgil died in the harbor at Brundisium on September 21, 19 BC. Augustus ordered Virgil's literary executors to disregard Virgil's wish that the manuscript of the Aeneid be burned, instead ordering it published with few editorial changes.
David Ferry was born in Orange, New Jersey in 1924. He is the author of a number of books of poetry and has translated several works from classical languages. Currently he is the Sophie Chantal Hart Professor Emeritus of English at Wellesley College, as well as a visiting lecturer in the Graduate Creative Writing Program at Boston University and a distinguished visiting scholar at Suffolk University.

His book of new and selected poems and translations, Of No Country I Know, published in 1999 by the University of Chicago Press, received the Lenore Marshall Prize from the Academy of American Poets and the Rebekah Johnson Bobbitt National Prize for Poetry from the Library of Congress.

In 2011 he was awarded the $100,000 Ruth Lilly Poetry Prize for lifetime achievement. Other awards include the Sixtieth Fellowship of the Academy of American Poets, the Harold Morton Landon Translation Award, the Teasdale Prize for Poetry, the John Simon Guggenheim Foundation Fellowship, the Ingram Merrill Award, and the William Arrowsmith Translation Prize from AGNI magazine. He was elected a fellow of the American Academy of Arts and Sciences in 1998.

He won the 2012 National Book Award for Poetry for Bewilderment.
Praise For…
---
"The shining merit of his version is a kind of transparency: somehow he has managed without losing tone, to efface himself, so that as slight a barrier as possible is put between the reader and a poem from another and distant world. . . . Ferry's is now the best modern version of the Aeneid, both for its loyalty to the original and for its naturalness to itself. . . . This translation has a youthful suppleness and flexibility. David Ferry is now ninety-three."
"A marvel throughout. . . . Ferry's blank verse is as understatedly traditional, and unflashy, as his diction. The whole accumulates into a stately, inevitable force. . . . The advantages of Ferry's version seem obvious to me: regularity of meter, clarity of image, simplicity of language, understatement of the horrific. Throughout, Ferry maintains a coolness even amid the most terrible drama. It is as if he were writing not in our still-Romantic (even if post-Romantic) personal vein, but altogether in another mode: a classical, fatalistic one, to be sure, but also one in which emotion and achievement matter communally."
"Ferry's Aeneid can be read with excitement and pleasure."
— Michael Dirda
"Though elegant, The Aeneid is also rough, then, and elegance and roughness abound in Ferry's completion of his work with Virgil. . . . The Aeneid is entirely distinctive, of personal and literary rather than popular and oral origins, a cornerstone of not just culture but also of calculated art. Ferry conveys its power even more than its majesty."
 
 
"An outstanding achievement."
— Susan Kristol
"Ferry's rendition of The Aeneid has allowed me to look at this epic with fresh eyes and as a result has given me a new enthusiasm and excitement for The Aeneid which I never thought would be possible since I have translated it from the Latin on my own and have read various English versions of it so many times. It is astounding that in 2006, at the age of 82, Ferry undertook the most formidable and difficult work of his career by beginning his translation of The Aeneid. At an age when most literary and academic careers are winding down, Ferry has done his very best and most ambitious work."
"From the long view and vantage of his own advanced age, Ferry has crafted an Aeneid not so much 'for the ages' (one never knows if that might be), but rather from and of our age in a manner not merely contemporary, but contemporaneous in spirit to what Virgil knew of war then, and remarkably what it still entails two millennia later. This not only enlivens for us a great classical poem, it also allows us to see our world as still classical in its demise and answering demeanor, no matter the drones that hover above. Loss, courage, blind rage, catastrophe, and chaos are the stuff of any age; David Ferry has held a finely polished mirror up to our own."
— Peter Filkins
"Ferry's version gains by its simplicity of language. . . . In Ferry's version, there's a notable balance of an eloquent sensibility and a narrative simplicity--both of which Virgil's epic demands, often simultaneously."