Rhetoric in Tooth and Claw: Animals, Language, Sensation (Hardcover)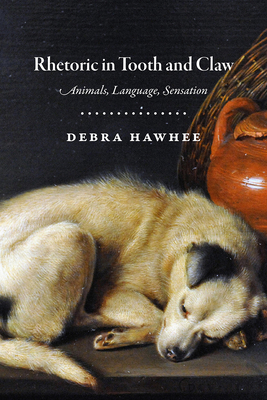 $47.25
Ships from Warehouse, Usually in 1-8 Days
Description
---
We tend to think of rhetoric as a solely human art. After all, only humans can use language artfully to make a point, the very definition of rhetoric.

Yet when you look at ancient and early modern treatises on rhetoric, what you find is surprising: they're crawling with animals. With Rhetoric in Tooth and Claw, Debra Hawhee explores this unexpected aspect of early thinking about rhetoric, going on from there to examine the enduring presence of nonhuman animals in rhetorical theory and education. In doing so, she not only offers a counter-history of rhetoric but also brings rhetorical studies into dialogue with animal studies, one of the most vibrant areas of interest in humanities today. By removing humanity and human reason from the center of our study of argument, Hawhee frees up space to study and emphasize other crucial components of communication, like energy, bodies, and sensation.

Drawing on thinkers from Aristotle to Erasmus, Rhetoric in Tooth and Claw tells a new story of the discipline's history and development, one animated by the energy, force, liveliness, and diversity of our relationships with our "partners in feeling," other animals.
About the Author
---
Debra Hawhee is McCourtney Professor of Civic Deliberation and professor of English and communication arts and sciences at Pennsylvania State University. She is the author of Moving Bodies: Kenneth Burke at the Edges of Language and Bodily Arts: Rhetoric and Athletics in Ancient Greece.
Praise For…
---
"In Rhetoric in Tooth and Claw, Hawhee goes back to the birth of rhetoric, in classical texts, including Aristotle's Nichomachean Ethics and Rhetoric, and close in the early Renaissance, when these works enjoyed a revival."
"Hawhee's complex, nuanced, important argument will inform both the study of rhetoric (and its history) and the more recent turn to animal studies, providing the latter with historical background stretching back as far as Aristotle....Highly recommended."
"Lively enough for advanced undergraduates with some classical training, as well as graduate courses in the history of rhetoric (or a contemporary theory unit on stylistics). Researchers interested in the classics, animals, or theory in general will of course value this fine-grained approach that turns up many illuminating ideas."
"An illuminating exposition on the deep relationship between language and nonhuman animals. . . .Hawhee's book succeeds at introducing a fascinatingly new approach to animal studies and rhetoric."
"This is an important work for students of the history and theory of rhetoric. Hawhee makes an exemplary case of the human-animal relationship as a rhetorical model for sensation and perception, providing readers with a conceptual vocabulary that enables a rigorous discussion of nonrational elements of rhetoric. What follows is an explanation and pedagogy of style that is more concretely and pragmatically rhetorical than any scholarship to date."
"In Rhetoric in Tooth and Claw, Hawhee not only offers an important new historical perspective on rhetoric but also develops an understanding that can account for the full complexity involved in an act of persuasion. Focusing on the centrality of animals for both the practice and teaching of rhetoric in ancient and pre-modern times, she illuminates with admirable clarity the collaborative relationship of logos and alogos, making evident the force of feeling and sensation in the creation and communication of understanding. Her study both invites and compels us to rethink what rhetoric is and leads to a significantly richer understanding of the multi-dimensional activity of mind that we call thought. Challenging the standard opposition of rational and non-rational, she shows how these two aspects often work in necessary collaboration to produce a fuller and more nuanced understanding. In addition, she demonstrates the reach of rhetoric's appreciation of nature in the shaping of the progymnasmata not only as a rich source of pedagogical training and cultural imagination but also as an equally important disciplined attention to empirical observation that contributed to the rise of modern science.  This is a wonderful book that enlarges the way that we can think about rhetoric and that powerfully reconnects the human with the rest of the animal kingdom, establishing a continuum that better explains what it means to be a sentient creature responsive to environments of threat and possibility."
— James L. Kastely
"Animals flourish in and insects infest rhetorical theory, but who before Hawhee ever noticed?  Her zoo of nonhuman animals tells us a lot about another animal whose animality has also been long neglected: the human animal. Rhetoric in Tooth and Claw puts the animal back into Aristotle's political animal via a tour d'horizon of the core curriculum in the western world. Against the idealized rationalism of some models of deliberation and the pejorative denunciation of rhetoric as basely emotional, animals in Hawhee's artful hands show us a way to a rhetoric that is at once feeling, sensing, thinking, and artful—aesthetic in the original sense."
"In Rhetoric in Tooth and Claw, Hawhee offers an original and compelling counter-history of premodern rhetorical theory and practice in which the alogos shared by all animal beings is situated at the very heart of language education and human communications. Indeed, in Hawhee's luminous rereadings, sensation is depicted as the condition for logos (as speech and reason), as well as for animal signaling. Putting rhetorical studies into productive conversation with contemporary issues raised by animal studies and affect theory, Hawhee gracefully demonstrates that nonhuman animals scurry through premodern rhetorical texts neither as anthropomorized representations nor as the dangerous supplements of human logos, but as zoostylistic teachers: language about animal liveliness both enlivens the senses and testifies to the absolutely fundamental role of sensation in any deliberation and every rational-critical discourse."