The Global Work of Art: World's Fairs, Biennials, and the Aesthetics of Experience (Hardcover)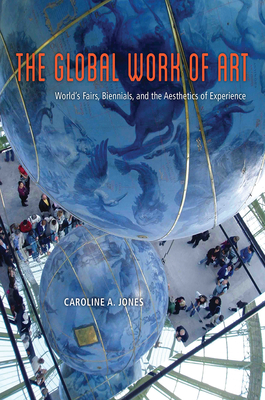 Description
---
Global biennials have proliferated in the contemporary art world, but artists' engagement with large-scale international exhibitions has a much longer history that has influenced the present in important ways. Going back to the earliest world's fairs in the nineteenth century, this book argues that "globalism" was incubated in a century of international art contests and today constitutes an important tactic for artists.

As world's fairs brought millions of attendees into contact with foreign cultures, products, and processes, artworks became juxtaposed in a "theater of nations," which challenged artists and critics to think outside their local academies. From Gustave Courbet's rebel pavilion near the official art exhibit at the 1855 French World's Fair to curator Beryl Madra's choice of London-based Cypriot Hussein Chalayan for the off-site Turkish pavilion at the 2006 Venice Biennale, artists have used these exhibitions to reflect on contemporary art, speak to their own governments back home, and challenge the wider geopolitical realm—changing art and art history along the way. Ultimately, Caroline A. Jones argues, the modern appetite for experience and event structures, which were cultivated around the art at these earlier expositions, have now come to constitute contemporary art itself, producing encounters that transform the public and force us to reflect critically on the global condition.
About the Author
---
Caroline A. Jones is professor in the History, Theory, and Criticism section of the Department of Architecture at the Massachusetts Institute of Technology.
Praise For…
---
The Global Work of Art can usefully be treated as part of a growing field within art history that focuses on exhibition history and the curatorial strategies that exhibitions mobilise. . . . Caroline Jones's book is both a considerable contribution to developments and an important intervention in them. It complicates any neat demarcation of the art exhibition as an autonomous object, and refuses any linear history of the art exhibition as a developing form. Some of the most powerful analyses in the book offer a recursive history of both change and continuity in the sensational forms of World's Fairs and biennial culture (a term used loosely to describe regular international art exhibitions rather than just those that occur every two years). 
The growing interest in the history of exhibitions has resulted in a range of academic studies, including monographic treatments of individual shows, accounts employing exhibitionary activity to frame art-historical developments and examinations of the work of particular curators. Jones's ambitious book cuts across each of these types, and does so in service to a rich narrative of broad compass...  the overall storyline is clear and important, and it is filled with illuminating historical and analytic details.
"Art has a unique ability to form communities, whether temporary or permanent, by bringing together people from very different backgrounds into a shared space, where differences of perception and worldview are appreciated and actively welcomed. The Global Work of Art presents an exciting, in-depth history of one such community, the art biennial, investigating the considerable potential of this institution and the artworks that have arisen from it. Jones examines the critical, experiential qualities of art with great clarity, along with the 'aesthetics of experience' that the biennial as a globalized exhibition format supports."
— Olafur Eliasson
"Continuing her innovative work in redefining the object of art history, Jones takes on the world in this book, a critical investigation of the labor of art to provide alternatives within the dominant forms of spectacle promoted by neoliberal globalization. Crucially, Jones makes us encounter the staging conditions of contemporary art, from the private gallery to the blockbuster exhibition, in radically new ways. This is a landmark book that will be studied for years to come."
— W. J. T. Mitchell, author of Image Science: Iconology, Visual Culture, and Media Aesthetics
"This is a wide-ranging and ambitious account of the history of biennial-style exhibitions. Displaying Jones's broad knowledge of exhibition history, the history of philosophy, and current theoretical debates, The Global Work of Art covers great ground and should be of interest to art historians, historians of exhibitions, curatorial studies students, and curators. Here is a significant contribution to the study of contemporary art."
— Alexander Dumbadze, author of Bas Jan Ader: Death Is Elsewhere