Bulleh Shah: A Selection (Paperback)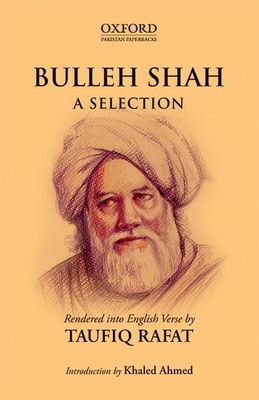 Description
---
This book is a collection of poems by the great Sufi poet of Punjab, Bulleh Shah (16801758), translated into English by Taufiq Rafat, one of Pakistan's premier English language poets. Born Abdullah Shah, Bulleh Shah belonged to the oral tradition and his poems are primarily in Punjabi as well as in Siraiki. Bulleh Shahs poetry is in the Kafi style, already established with the Sufis who preceded him, and extensively use the Rubbay (quatrain) form. Several of his verses are an integral part of the traditional repertoire of Qawwali, the musical genre which represents the devotional music of the Sufis. Following the tradition of Sufi poetry, the poems in this collection refer to love of or for God, or the Mentor, or the desire for absorption in nature, described through symbolic references to local customs pertaining to weddings, funerals, journeys, and harvests.

About the Author
---
Playwright, translator, and poet, Taufiq Rafat was regarded as one of the finest Pakistani poets writing in English. Postulating a fundamental Pakistani Idiom, he revolutionized English language writing in this country by adapting and naturalizing English to express the Pakistani experience. Born in Sialkot in 1927, Rafat was educated at Dehra Dun, Aligarh, and Government College, Lahore. His work featured in all three of Oxford University Presss early collections of Pakistani English poetry, First Voices (1964), Pieces of Eight (1970), and Wordfall (1976). He was published overseas in the celebrated literary-political journal, Encounter, as well as in Poems of the Commonwealth, and Mentors Modern Asian Literature.
UPB open Tuesday through Friday 1PM - 6PM, Saturday Noon - 5pm
2430 Bancroft Way
The store known for serving pure brain food has returned to our old digs for a few months to sell down inventory and bid fare thee well to our decades of in-store customers.
Days and hours subject to change.
Note: This site lists what's available for special order from Ingram Content Group.
Visit our pages at Alibris or Biblio to survey in-store stock priced above $19.95.
Discount applies only to in-store purchases.
Cafe Ohlone
Once hosted by UPB, Cafe Ohlone now serves guests outside the Hearst Museum of Anthropology on the Cal campus.
Savor the foods which characterized east bay cuisine for thousands of years, before European contact. Brought to you by Mak'amham.