Brain, Beauty, and Art: Essays Bringing Neuroaesthetics Into Focus (Hardcover)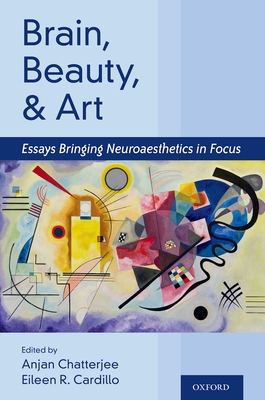 $56.25

Ships from Warehouse, Usually in 1-8 Days
Description
---
Aesthetics has long been the preserve of philosophy, art history, and the creative arts but, more recently, the fields of psychology and neuroscience have entered the discussion, and the field of neuroaesthetics has been born. In Brain, Beauty, and Art, leading scholars in this nascent field reflect on the promise of neuroaesthetics to enrich our understanding of this universal yet diverse facet of human experience. The volume consists of essays from foundational researchers whose empirical work launched the field. Each essay is anchored to an original, peer-reviewed paper from the short history of this new and burgeoning subdiscipline of cognitive neuroscience. Authors of each essay were asked three questions: 1) What motivated the original paper? 2) What were the main findings or theoretical claims made? and, 3) How do those findings or claims fit with the current state and anticipated near future of neuroaesthetics? Together, these essays establish the territory and current boundaries of neuroaesthetics and identify its most promising future directions. Topics include models of neuroaesthetics, and discussions of beauty, art, dance, music, literature, and architecture. Brain, Beauty, and Art will inform and stimulate anyone with an abiding interest in why it is that, across time and culture, we respond to beauty, engage with art, and are affected by music and architecture.

About the Author
---
Anjan Chatterjee is a Professor of Neurology, Psychology, and Architecture and the founding Director of the Penn Center for Neuroaesthetics. He wrote The Aesthetic Brain: How we evolved to desire beauty and enjoy art and co-edited: Neuroethics in Practice: mind, medicine, and society, and The Roots of Cognitive Neuroscience: behavioral neurology and neuropsychology. He has received the Norman Geschwind Prize in Behavioral and Cognitive Neurology and the Rudolph Arnheim Prize for contribution to Psychology and the Arts. He is or has been in the editorial board of several journals focused in neuroscience, neurology, ethics, and aesthetics. He is a founding member of the Board of Governors of the Neuroethics Society, the past President of the International Association of Empirical Aesthetics, and the past President of the Behavioral and Cognitive Neurology Society Eileen Cardillo, DPhil is a cognitive neuroscientist and Associate Director of the Penn Center for Neuroaesthetics. She received her B.S. in Biological Psychology at the College of William & Mary and her doctorate in Experimental Psychology while a Rhodes Scholar at the University of Oxford. Before joining the PCfN, Eileen completed her postdoctoral training at the University of California San Diego and the University of Pennsylvania, with an emphasis on neuropsychological studies of cognition. Her research interests include metaphor, contemplative practice, and the cognitive, affective, and health impacts of aesthetic experiences
UPB open Tuesday through Friday 1PM - 6PM, Saturday Noon - 5pm
2430 Bancroft Way
The store known for serving pure brain food has returned to our old digs for a few months to sell down inventory and bid fare thee well to our decades of in-store customers.
Days and hours subject to change.
Note: This site lists what's available for special order from Ingram Content Group.
Visit our pages at Alibris or Biblio to survey in-store stock priced above $19.95.
Discount applies only to in-store purchases.
Cafe Ohlone
Once hosted by UPB, Cafe Ohlone now serves guests outside the Hearst Museum of Anthropology on the Cal campus.
Savor the foods which characterized east bay cuisine for thousands of years, before European contact. Brought to you by Mak'amham.