William Blake: Selected Writings (21st-Century Oxford Authors) (Paperback)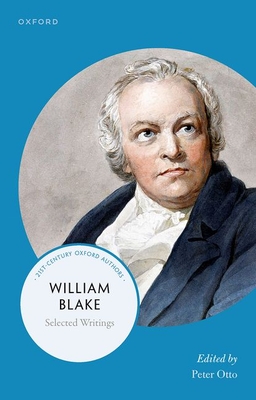 $25.00

Coming Soon - Available for Pre-Order Now
Description
---
This volume in the 21st Century Oxford Authors series offers students and readers a comprehensive selection of the work of William Blake (1757-1827). Accompanied by full scholarly apparatus, this authoritative edition enables students to explore Blake's poetry, illuminated poetry, and prose alongside selections from his letters, manuscripts, notebook, advertising pamphlets, marginalia, and works he printed in conventional letterpress. The edition arranges Blake's works in chronological order, according to the date when they were first printed or, in the case of unpublished works, the years in which they were composed. With the help of editorial headnotes and annotations, this arrangement brings to the foreground Blake's material and intellectual labours as a poet, painter, prophet, and non-academic philosopher; the networks of acquaintances, friends, patrons, and enemies who helped support or provoke this work; and the tumultuous historical events he responded to, which included the beginning of modern feminism, the agricultural and industrial revolutions, the American and French Revolutions, William Pitt's so-called 'Reign of Terror' in Britain, an attempted revolution in Ireland (1798), a successful slave rebellion in Haiti (1791-1804), and the French revolutionary and Napoleonic wars. Some editions attempt to sanitize Blake, by hiding from view the most startling elements of his thought; but in this edition
Blake's sexual, political, religious, and poetic heterodoxy comes into full view. At the same time, this edition foregrounds the dynamics of Blake's composite art, with equal weight given to its verbal and visual dimensions; makes visible the chief lines of force that structure his oeuvre; and highlights his developing thought on sapphism, sodomy, the body, relations between the sexes, the roots of violence, and the politics of imagination. This is a Blake whose dialogue with his own time anticipates much later developments, including modern depth psychologies; analyses of the social and psychological dynamics of war and peace; interest in the body, sexuality, and gender; and experiments in the relation between actual and virtual realities--a Blake who is provocative, unsettling, exhilarating, and somehow our contemporary. Explanatory notes and commentary are included, to enhance the study, understanding, and enjoyment of these works, and the edition includes an Introduction to the life and works of Blake, and a Chronology.

About the Author
---
Peter Otto, Redmond Barry Distinguished Professor, University of Melbourne Peter Otto is Professor of Literature at the University of Melbourne and a member of the Australian Academy of the Humanities. He teaches and researches in the literatures and cultures of modernity, from Romanticism to the new media of today. His recent publications include Entertaining theSupernatural: Animal Magnetism, Spiritualism, Secular Magic and Psychical Science, an online collection of primary texts (2007); Multiplying Worlds: Romanticism, Modernity, and the Emergence of Virtual Reality (OUP 2011); and 'Innovations in Encompassing Large Scenes', an online exhibition housed inthe Romantic Circles Gallery of Visual Culture (2013). He has published two books on William Blake, both with Oxford University Press, numerous articles on Blake, Romanticism, and Gothic Fictions, and is currently completing a monograph on 'William Blake and the History of Imagination: Poetry, Prophecy, and Secularization'.