Reactionary Republicanism: How the Tea Party in the House Paved the Way for Trump's Victory (Paperback)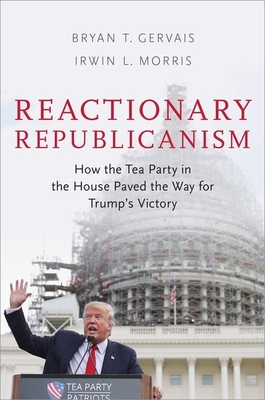 $44.94

Ships from Warehouse, Usually in 1-8 Days
Description
---
The shocking election of President Trump spawned myriad analyses and post-mortems, but they consistently underestimate the crucial role of the Tea Party on the GOP and Republican House members specifically. In Reactionary Republicanism, Bryan T. Gervais and Irwin L. Morris develop the most sophisticated analysis to date for gauging the Tea Party's impact upon the U.S. House of Representatives. They employ multiple types of data to illustrate the multi-dimensional impact of the Tea Party movement on members of Congress. Contrary to conventional wisdom, they find that Republicans associated with the Tea Party movement were neither a small minority of the Republican conference nor intransigent backbenchers. Most importantly, the invigoration of racial hostility and social conservatism among Tea Party supporters fostered the growth of reactionary Republicanism. Tea Party legislators, in turn, endeavored to aggravate these feelings of resentment via digital home styles that
incorporated uncivil and aversion-inducing rhetoric. Trump fed off of this during his run, and his symbiotic relationship with Tea Party regulars has guided-and seems destined to-the trajectory of his administration.

About the Author
---
Irwin L. Morris is Professor and Chair of the Department of Government and Politics at the University of Maryland, College Park. His research focuses on a variety of topics in the fields of American politics, including political economy, public policymaking, race and ethnic politics, and Southern politics. Dr. Morris is the author of several books, including The American Presidency: An Analytical Approach (Cambridge 2010)and The Rational Southerner: Black Mobilization, Republican Growth, and the Partisan Transformation of the American South (coauthored with M.V. Hill III and Quentin Kidd, Oxford 2012). Professor Morris has also published many articles in top ranked journals such as Legislative Studies Quarterly, Electoral Studies, American Journal of Political Science; Public Choice, American Politics Research, Social Science Quarterly, and Political Behavior. Bryan T. Gervais is an Assistant Professor in the Department of Political Science & Geography at the University of Texas at San Antonio (UTSA). In addition to his work on the Tea Party in Congress, his research focuses on the effects of exposure to political incivility and the connection between uncivil discourse and anti-deliberative attitudes. He is also the coordinator of the Digital Politics Studio at UTSA, whose mission it is to archive and analyze political elites' social media posts. Dr. Gervais' journal publications have appeared in Political Communication; Politics, Groups, and Identities; PS: Political Science & Politics; Social Science Quarterly; the International Journal of Public Opinion Research; and the Journal of Information Technology & Politics.