Before you buy…
We're glad to again service customers, even though our former store front has closed and we operate this web store under reduced services.
Just scroll to the bottom to review limits placed on orders. .
Impeachment: A Citizen's Guide (Paperback)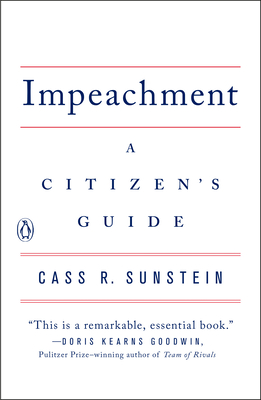 Description
---
"With insight, wisdom, affection, and concern, Sunstein has written the story of impeachment every citizen needs to know. This is a remarkable, essential book." —Doris Kearns Goodwin

No one is above the law, not even the president. Impeachment is the most potent tool the founders gave us to ensure it, and yet few of us even know how it works.

As Benjamin Franklin famously put it, Americans have a republic, if we can keep it. Preserving the Constitution and the democratic system it supports is the public's responsibility. One route the Constitution provides for discharging that duty--a route rarely traveled--is impeachment. Expanding beyond violations of the law, impeachment was meant to defend against any action that would undermine the foundations of our republic.

Harvard Law professor Cass R. Sunstein provides a succinct citizen's guide to this essential tool of self-government. Taking us deeper than mere partisan politics, he illuminates the constitutional design behind impeachment and emphasizes the people's role in holding presidents accountable. In spite of the loud national debate over whether or not the House is right to impeach Trump, impeachment itself remains widely misunderstood. Sunstein identifies and corrects a number of common misconceptions, and describes how impeachment helps is an essential piece of our constitutional order, and a crucial part of the framers' decision to install an empowered executive in a nation deeply fearful of kings.

With an eye toward the past and the future, Impeachment: A Citizen's Guide considers a host of actual and imaginable arguments for a president's removal, explaining why some cases are easy and others hard, why some arguments for impeachment have been judicious and others not. And with an afterword and appendix on the current impeachment, it puts the national debate in its proper historical context. In direct and approachable terms, it is a guide through the treacherous waters of the impeachment process so that Americans of all political convictions may use their ultimate civic authority wisely.
About the Author
---
Cass R. Sunstein is the Robert Walmsley University Professor at Harvard University, where he is founder and director of the Program on Behavioral Economics and Public Policy. He is the most cited law professor in the United States and probably the world. He has served as administrator of the White House Office of Information and Regulatory Affairs and as a member of the President's Review Group on Intelligence and Communications Technologies. Winner of the 2018 Holberg Prize, Sunstein is a columnist for Bloomberg View and a frequent adviser to governments all over the world. His many books include the bestsellers Nudge: Improving Decisions About Health, Wealth, and Happiness (with Richard H. Thaler) and The World According to Star Wars.
Praise For…
---
"With insight, wisdom, affection, and concern, Sunstein has written the story of impeachment every citizen needs to know. This is a remarkable, essential book."—Doris Kearns Goodwin

"Thoroughly grounded in constitutional history and past practice… Excellent."—Noah Feldman and Jacob Weisberg, The New York Review of Books

"Sunstein's goal was to lay out a legal and historical framework for thinking about impeachment, independent of any specific president. I've been thinking about the topic a lot since finishing the book, and I want to recommend [it]… [It's a] careful history of impeachment—of when the founders believed it was appropriate and necessary."—David Leonhardt, The New York Times

"Considering that the only executive branch event more unnerving for voters than impeachment is assassination, Sunstein's book…is a surprisingly cheerful read."—Sarah Vowell, The New York Times

"Sunstein has written a concise, enlightening, and argumentative history and guide to getting rid of presidents… It's more of a why-to and when-to, and a what-were-they-thinking-when-they-decided-to kind of book. Sunstein delves into the writings, speeches, and deliberations of America's revolutionary generation."—Carlos Lozada, The Washington Post

"An elegant new monograph."—Andrew Sullivan, The New York Times Book Review

"A lively, compact, and authoritative account… [Sunstein] addresses the most intriguing questions posed by this little used but pivotal constitutional provision… Truly lives up to its promise of being 'A Citizen's Guide.' …Excellent."—Stephen Rohde, The Los Angeles Review of Books

"Explains the historical origins of the impeachment concept, and offers a checklist as to when the principle might be applied… Now, more than ever, cool heads are needed to safeguard the U.S. Republic: thank goodness for this book—and its handy impeachment checklist."—Gillian Tett, Financial Times

"Impeachment: A Citizen's Guide offers edifying background for an argument that might soon be in need of eloquent, as well as passionate, delivery."—Richard Blaustein, The Los Angeles Review of Books

"A compact, concise, and highly relevant civics lesson. There have been a number of books published about impeachment, many of them partisan manifestoes. What makes Sunstein's book of such great interest is its lack of fanfare and knife‐sharpening. The author is a learned and accessible guide as he maneuvers his way through the history of democracy's nuclear option… A welcome, timely, ideal primer."—Kirkus Reviews

"The book is a tribute to the Founding Fathers' wisdom in providing for a remedy in case someone who is vicious, lawless and unfit should somehow end up in power."—Scott McLemee, Inside Higher Ed

"Sunstein is well positioned to provide this balanced and timely overview of the role of impeachment in American democracy… An essential guide to understanding impeachment's function within the 'constitutional system as a whole' and a persuasive argument that the impeachment clause places 'the fate of the republic' in the hands of its citizenry."—Publishers Weekly

"This slim book is thoroughly researched, easy to read and for some perhaps a real eye-opener."—Owen Dawson, The Irish Times

"Offers a highly accessible, brilliantly thoughtful, and politically neutral analysis of what the Constitution means for our present moment and for generations that follow."—Ryan Goodman, Just Security

"With speculation rife about the possibility of impeaching President Trump, this little book is indeed timely."—Felix M. Larkin, The Irish Catholic

"Sunstein provides a brief, readable survey of the issue, beginning with early English history and continuing to the present… Sunstein concludes with key questions that every American should consider together with the constitutional standards that would govern it."—W. C. Johnson, Choice
STOREFRONT CLOSED FOR REGULAR BUSINESS
Nevertheless, UPB provides ship-to-home service.
Unless and until we move our on-line fulfillment team to different premises, everything you purchase from us ships from warehouses outside of Berkeley.
Much of what we used to carry on store shelves is available, except for very expensive books, used books, and titles fallen between printings.
A number of limitations apply during this period of reduced operations:
Only orders that subtotal under $75.00 will ship.
Thus, we may remove items from a multi-book order and ask you to resubmit them on a separate order.
Sometimes we may have to split an order because books are stocked at different warehouses. Sorry, it's impossible to tell in advance when this may happen.
Credit card orders only
Many high demand titles ship fairly quickly. Most other titles travel from back east, adding 2 to 3 days to delivery
Althoug we love you in Canada, Latin America, and else where, U.S. orders only.
Certain publishers set low margins on certain titles. Sorry, we've had to raise prices on these, some we don't offer at all.
You can also purchase eBooks and audio books through us. Distributed by Hummingbird, they include publications from the major trade publishers. Just access the menu link or the sidebar image above.
We greatly appreciate your support of the store with your book orders. Need a book without our current shopping restrictions? We recommend Bookshop. View our affiliate page, then search for whatever book you'd like.
---
Should you have questions, email us via our contact form. Since none of will be keeping regular hours, it may take a day or two to get back with you.
The Cafe Ohlone has closed for the duration of the epidemic. They will probably reopen at a different location when they do.
From 1974, University Press Books has stoked the blaze of well over ten thousand minds on fire, carrying new scholarship published by the great university presses in the English-speaking world.
Since our founding, we've added quality fiction and creative non-fiction to our selection, without drfiting from our mission to showcase top new texts introduced by university presses.
Order from us. Visit us. Let well-wrought words churn and burn within.