Christmas delivery ends December 13th
We much appreciate how you've made UPB your holiday shopping destination.
Keep in mind, though, that it can take time for books to arrive at your desired shipping address. Sometimes titles have to cross the country from their warehouse location.
Therefore we recommend that you place your gift orders by December 13th to maximize delivery chances before December 25th.
Government Matters: American Democracy in Context (Hardcover)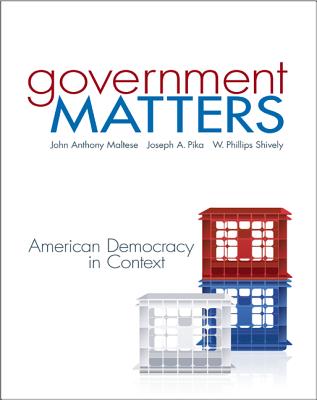 Description
---
Unique to Government Matters, the narrative tells the story of the making and developing of our distinctly American Democracy. It not only inspires students to ask "Why are we the way we are?" but also gives them the knowledge and context they need to answer for themselves, "Why does it matter?" Government Matters' unique approach to the material and market-leading digital tools make this an ideal solution to course goals. Your course may be the only American Government course that your students takes. Make American Government matter while increasing student performance, student engagement, and critical analysis skills. Government Matters , a first edition text is available with Government in Action, an educational, multiplayer game that provides personalized, experiential learning for students that demonstrates how the American Government really works. Also available is McGraw-Hill's LearnSmart , an adaptive questioning tool proven to increase content comprehension and improve student results.