Honey and Spice: A Reese's Book Club Pick (Hardcover)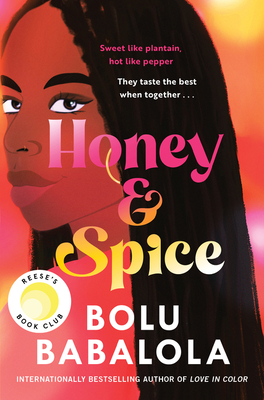 $27.99

Ships from Warehouse, Usually in 1-8 Days
Description
---
INSTANT NATIONAL BESTSELLER • A REESE'S BOOK CLUB PICK • A TIKTOK BOOK CLUB PICK
"Sexy, messy and wry, Honey and Spice more than delivers." — New York Times Book Review
"A vibrant debut novel . . . Babalola is incisively funny, capturing the kick and sweetness of her title with her words." — Entertainment Weekly
Named a Best Book of the Year by Time • Esquire • Vanity Fair • Oprah Daily • Cosmopolitan • Elle • Harper's Bazaar • Southern Living • Buzzfeed • Women's Health Magazine • AudioFile • Popsugar • and more!
Introducing internationally bestselling author Bolu Babalola's dazzling debut novel, full of passion, humor, and heart, that centers on a young Black British woman who has no interest in love and unexpectedly finds herself caught up in a fake relationship with the man she warned her girls about
Sweet like plantain, hot like pepper. They taste the best when together...
Sharp-tongued (and secretly soft-hearted) Kiki Banjo has just made a huge mistake. As an expert in relationship-evasion and the host of the popular student radio show Brown Sugar, she's made it her mission to make sure the women of the African-Caribbean Society at Whitewell University do not fall into the mess of "situationships", players, and heartbreak. But when the Queen of the Unbothered kisses Malakai Korede, the guy she just publicly denounced as "The Wastemen of Whitewell," in front of every Blackwellian on campus, she finds her show on the brink.
They're soon embroiled in a fake relationship to try and salvage their reputations and save their futures. Kiki has never surrendered her heart before, and a player like Malakai won't be the one to change that, no matter how charming he is or how electric their connection feels. But surprisingly entertaining study sessions and intimate, late-night talks at old-fashioned diners force Kiki to look beyond her own presumptions. Is she ready to open herself up to something deeper?
A gloriously funny and sparkling debut novel, Honey and Spice is full of delicious tension and romantic intrigue that will make you weak at the knees.
"A smart, sexy summer read, which hits your brain and your romance buttons in one shot." — Los Angeles Times
"The ultimate summer romance . . . It's got all the juiciest, most satisfying romance tropes, but in Babalola's capable hands, the story feels fresh and unique." — The Cut, New York magazine
"Divine summer reading. Hilarious, hot, and heartfelt. " — Meg Cabot, #1 New York Times bestselling author
About the Author
---
Bolu Babalola is a British-Nigerian journalist, writer, and lover of love. In 2016, she was shortlisted in 4th Estate's B4ME competition for her short story "Netflix & Chill," a hilarious tale of teen romance. Bolu has worked as a writer for books, TV, press and as a cultural commentator.
Praise For…
---
"The true stars of Honey and Spice are characterization, banter and sharp social observation, all of which Babalola renders spectacularly. She soars in her rich depictions of intimacy and relationships, in all their grandeur. And Babalola blends the vernacular and rhythms of Black American music with Black British culture, and its fusion of Pan-African influences, making the text even richer. . . . Expectations for her first full-length novel are high. Sexy, messy and wry, Honey and Spice more than delivers." — New York Times Book Review
"The ultimate summer romance . . . It's got all the juiciest, most satisfying romance tropes, but in Babalola's capable hands, the story feels fresh and unique."  — The Cut, New York magazine
"A vibrant debut novel . . . Babalola is incisively funny, capturing the kick and sweetness of her title with her words."  — Entertainment Weekly, Sizzling Summer Reads to Heat Up Your Beach Days
"Divine summer reading. Hilarious, hot, and heartfelt." — Meg Cabot, #1 New York Times bestselling author
"[A] smart, sexy summer read, which hits your brain and your romance buttons in one shot." — Los Angeles Times, 10 books to add to your reading list in July
"A deliciously modern love story . . . Honey and Spice begins with a meet-cute in a dorm hallway and doesn't skimp on steamy, swoon-worthy moments. . . . The author's sharp sense of humor, slick pop culture references, and keen sense of the zeitgeist . . . offers a refreshing portrait of what modern love really looks and feels like." — Time magazine
"Bolu Babalola's rom-com drizzles honey and spice into modern love. . . . The holidays are the perfect time to sink into this sweet and savvy mashup. Like a Gen Z meeting of Nora Ephron and Bernadine Evaristo, in her first romance novel, the author of the myth-inspired story collection Love in Color infuses the joy, pain, and laughter of young love with cultural insight and drama. . . . This swoony coming-of-age tale cements Babalola's superlative status as a queen of romantic comedy and master chronicler of Black British life." — Oprah Daily, Best Books of 2022
"Clever, confident Kiki is a romantic heroine for the ages, while the witty repartée and pop culture passion between these young lovers make for a vivacious romp." — Esquire, Best Books of Summer 2022
"Looking for some rom-com action? Look no further than Bolu Babalola's Honey and Spice . . . It's messy, it's sexy, and it's a must-read." — Cosmopolitan, Best Summer Reads of 2022
"This buzzy, breezy book has all the makings of the perfect summer read: an enemies-to-lovers story line, a fake relationship plot point, a British university setting, and a clever, captivating heroine who finds herself at the center of it all. Is it messy? Yes. Is it sexy? Bigger yes." — theSkimm
"Filled with the perfect amount of romantic tension and one admirable protagonist. . . . Honey and Spice will make readers smile wide in delight and do as Bolu Babalola always does best—keep the hope for true love alive and enjoyable." — Shondaland, The Best Books for July 2022
"Anyone who's read Bolu Babalola's tweets knows she's got a crackling sense of humor. As a debut novelist, she blends that signature wit with the warmth of romance in Honey & Spice, about an independent young Black woman at the British Whitewell University who discovers that—when it comes to love—"fake relationships" more often than not turn true." — Elle, Best Books of Summer 2022
"Just in time to quench the thirst for a much-needed swoony summer read, Bablola's debut novel Honey & Spice is here. . . . Terrific rom-com." — Thrillist, 27 Books We Can't Wait to Read This Summer
"Kiki has become known at her university for doling out romantic advice to her classmates, helping members of the school's Afro-Caribbean Society avoid heartache. But her judgment is questioned after she kisses a man she called unsuitable; to save face, she and the man manufacture a fake relationship that becomes very real." — New York Times, Summer Reading Suggestions
"A tooth-achingly sweet rom-com set on a college campus." — Harper's Bazaar, The Best Beach Reads of 2022
"Babalola's hilarious romance debut will have you laughing out loud and reconsidering first impressions." — Buzzfeed, 15 Books You'll Want To Read If You Loved HBO's "Insecure"
"This fun and funny campus novel is set at Whitewell University, where Kiki Banjo, the host of the student radio show Brown Sugar, is determined to help other students find their way through the mess of university dating. Much to her dismay, she soon finds herself in just the kind of romantic situation she opposes." — Southern Living, Beach Reads Perfect for Summer 2022
"If you are in the mood for something a little messy and funny, then you want to get lost in Honey and Spice by Bolu Babalola. Meet Kiki Banjo, the story's protagonist. She's a smart, funny, young Black British woman who isn't interested in finding love. As the host of Brown Sugar, the college's student radio show, Kiki warns the women on campus about falling for players. Except, she forgets to take her own advice when gets caught up in a fake relationship which she soon loses control of, forcing her to reexamine her views on love." — BET.com, Summer Reading List
"Following the enormous success of her 2020 collection of reimagined stories, Love in Color, we are now gifted with Babalola's smashing debut novel, Honey and Spice. . . . Honey and Spice is what a love story should be—two people who both challenge and enjoy each other and at the same time keep the readers engaged in their romance." — Wadzanai Mhute, Yahoo!life
"A vivacious and romantic debut novel… emotionally intimate and hilarious in turn. Babalola's expert handling of the messy vulnerability and joyful exuberance of young love makes this a winner."
— Publishers Weekly (starred review)
"A beautiful and witty novel that's a celebration of love, friendship and Black joy that will wend it's way into readers' hearts. Brimming with Afro-Caribbean culture, British banter, pop culture references, and plenty of steam, this book will appeal to fans of the fake dating trope, novels with a well-developed cast of characters, and feminist romances with strong themes of friendship." — Library Journal (starred review)
"Babalola's debut novel is lyrical and sincere, her prose rhythmic . . . Kiki is the epitome of cool; her dialogue oozes with confidence, and her biting wit rolls off her tongue with ease—leaving readers wishing they could play her clever disses on repeat like their favorite song. Smooth, sophisticated, and sexy." — Kirkus (starred review)
"[Babalola] understands the pure magic of a perfect love story. Her first novel is the wonderfully indulgent long-form romance her readers have been waiting for. . . . Babalola identifies what it truly means to be seen, tapping into the big and small things that can cement or destroy relationships. While many love stories either pit women against one another or ignore women outside the relationship entirely, this story has a strong undercurrent of sisterhood, demonstrating that love comes from all kinds of places, if you're open to it." — Booklist
"This enemies-to-lovers romance set on a British university campus hums with Bolu Babalola's energetic, intelligent voice." — Bookpage, Best Romance of 2022
"Weruche Opia's confident narration sings with a heady mix of feminine power and vulnerability. Opia builds an elegant, charismatic persona for Kiki Banjo, who doles out feminist relationship advice on her radio show. Add a fake relationship and a magical connection for a spellbinding story."  — AudioFile, Best Audiobooks of 2022
"Succulent, addictive romance. Simply wonderful." — Lizzie Damilola Blackburn, author of Yinka, Where Is Your Huzband?
"Smart, sexy and energetic. I'm excited for everyone to read this book." — Emma Gannon, internationally bestselling author of Olive
"Honey and Spice is gorgeously written and heart-meltingly romantic. Kiki and Malakai have a rare, extraordinary, sizzling chemistry which has you rooting for their love story from the very first moment they cross paths. A triumph of a novel."
— Beth O'Leary, internationally bestselling author of The Flatshare
"Honey and Spice is funny, sexy and smart—everything that you'd want from a lover. Bolu Babalola has created a sensuous and joyful world that you just want to dive into. It is a blissful celebration of first loves, second chances and sisterhood, and confirms what we already know, Bolu is an expert at her craft."
— Jendella Benson, author of Hope and Glory
"Perfection . . . I am in love with every single word Bolu Babalola has written. So rarely is love expressed this richly, this vividly, or this artfully." — Candice Carty-Williams, international bestselling author of Queenie, on Love in Color
"Bolu Babalola [is] this really great romance writer." — Quinta Brunson, Harper's Bazaar
"Bolu Babalola splashes onto the scene with her fantastic debut . . . Magnificent . . . Perfect for the beach." — Isaac Fitzgerald, Today Show, on Love in Color
"A thrillingly gifted Nigerian-British author . . . Babalola dives deep into the notion that "romance sweetens the casual bitterness we can encounter; it heightens the mundane and makes the terrestrial supernatural." — Oprah Daily on Love in Color
"Inventive, intimate, witty and wise, Babalola's irresistible explorations uplift you from the start . . . Romance will never be dead, as long as she's writing it." — Jessie Burton, New York Times bestselling author of The Muse, on Love in Color
"Bolu Babalola is clever . . . she finds the perfect new twist for every story that you think you know . . . A true delight." — Dorothy Koomson, international bestselling author, on Love in Color
"Richly imaginative, unashamedly romantic and a total pleasure to read. I didn't want it to end." — Alexandra Sheppard, author of Oh My Gods, on Love in Color
"Babalola's writing shines whether she's writing parry-riposte banter or fresh, evocative interiority." — New York Times Book Review on Love in Color
"Full of life and character, it's such a pleasure to take this ride . . . in the company of a writer as witty and intelligent as Bolu. Her romantic sensibility is second to none." — Bethany Rutter, author of No Big Deal, on Love in Color
"Folklore enthusiasts and romcom fans alike will fall hard for Love in Color . . . Beautifully realized by Babalola, each retelling breathes contemporary imagination into cherished stories, making for luscious tales of loneliness, longing, and love." — Esquire on Love in Color
"Luscious . . . Come for the beautiful and achingly relevant narratives centered around dynamic women . . . stay for the reminder that the happiest ever after is falling in love with yourself." — Essence on Love in Color
"These vibrant stories navigate the most complex human emotion and try to understand why it holds us hostage, while decolonizing tropes by forming new stories that already exist in so many cultures and communities around the world." — Refinery 29 on Love in Color
UPB open Tuesday through Friday 1PM - 6PM, Saturday Noon - 5pm
2430 Bancroft Way
The store known for serving pure brain food has returned to our old digs for a few months to sell down inventory and bid fare thee well to our decades of in-store customers.
Days and hours subject to change.
Note: This site lists what's available for special order from Ingram Content Group.
Visit our pages at Alibris or Biblio to survey in-store stock priced above $19.95.
Discount applies only to in-store purchases.
Cafe Ohlone
Once hosted by UPB, Cafe Ohlone now serves guests outside the Hearst Museum of Anthropology on the Cal campus.
Savor the foods which characterized east bay cuisine for thousands of years, before European contact. Brought to you by Mak'amham.