Race to the Bottom: Uncovering the Secret Forces Destroying American Public Education (Hardcover)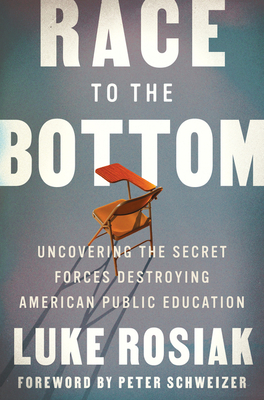 $27.99

Ships from Warehouse, Usually in 1-8 Days
Description
---
Everyone wants: High schoolers to graduate well-prepared for jobs. Improved STEM literacy. Greater achievement for inner-city children. Happiness for all children. So why are liberals spending billions of dollars working against those goals?
In Race to the Bottom, Luke Rosiak uncovers the shocking reason why American education is failing: Powerful special interest groups are using our kids as guinea pigs in vast ideological experiments. These groups' initiatives aren't focused on making children smarter—but on implementing a radical agenda, no matter the effect on academic standards.
Nonprofits pump billions into initiatives meant to redress racial inequities. Rather than fixing the problem, districts with a big gap between white and black test scores hire consultants who claim the tests are meaningless because they are "racist." These consultants' judgments allow school districts to ignore their own failures—ultimately hurting minority students and perpetuating racism.
That is just one example. Drawing on his years in investigative journalism, Rosiak did a deep dive into school files, financial records, and parents' stories. What he found is that nonprofit influence has crept into the educational bureaucracy all over America. Corrupt school boards and quack diversity consultants abound. Teachers drawing government pay claim it's unsafe to return to in-person school, but "double dip" teaching in-person private classes. And amid all this focus on money and equity, academic standards are crumbling, which hurts American kids in ways we'll be suffering for decades.
Race to the Bottom is the first comprehensive exposé of the way radical ideology and self-serving administrators are destroying academic quality in America's K-12 schools. Rigorous and deeply-researched, this is essential reading for anyone who cares about the future of our kids.
About the Author
---
Luke Rosiak is an investigative reporter with the Daily Wire who broke stories that put Loudoun County Public Schools on the national stage. He previously worked as a journalist at the Daily Caller and the Washington Post and is the author of Obstruction of Justice. He lives with his wife and children outside Washington, D.C. in Fairfax County, Virginia.
Praise For…
---
"Luke Rosiak is an absolutely indispensable reporter, and in his new book, he proves why once again. Americans should be able to expect that the schools to which they send their children aren't indoctrination centers dominated by special interests—but they can't. Rosiak's exploration of our failing K–12 system is a damning and deserved indictment."  — Ben Shapiro
"What you saw with teachers unions' school closures and what you've heard about critical race theory is only the tip of the iceberg. If you want to preserve a good life for your kids—and yourself—you need to understand what's in this book. The stories Luke tells are wild . . . and, unfortunately, all too true." — Mark Levin
"Luke Rosiak exposes the complex network of activists, unions, bureaucrats, and philanthropists who are hell-bent on racializing the American education system and indoctrinating students with left-wing ideologies. This book is an essential read for parents, educators, and citizens who care about the future of American education. It's high time for our country to get back to basics, and Race to the Bottom provides a road map for returning to sanity in our schools." — Christopher F. Rufo
"Race to the Bottom pulls no punches. It offers a raw, honest, and evidence-based account of the crisis that has beset our educational intuitions. It is not hyperbole to say that generations of students have been robbed of a genuine education and cognitively damaged because of a system that's been captured by ideology. Every parent would be wise to read this book." — Peter Boghossian
"Luke Rosiak is American public education's only investigative journalist. The pandemic started to open parents' eyes to the corruption of K–12 education, but any mom or dad who cares to see to the core must read Race to the Bottom. Government schools have fallen under the sway of deep-pocketed institutions advancing an ideology that disdains achievement and degrades the soul. But it's not too late for parents to fight back. Knowledge is power, and Rosiak's landmark book will help give parents the power they so desperately need." — Max Eden
UPB open Tuesday through Friday 1PM - 6PM, Saturday Noon - 5pm
2430 Bancroft Way
The store known for serving pure brain food has returned to our old digs for a few months to sell down inventory and bid fare thee well to our decades of in-store customers.
Days and hours subject to change.
Note: This site lists what's available for special order from Ingram Content Group.
Visit our pages at Alibris or Biblio to survey in-store stock priced above $19.95.
Discount applies only to in-store purchases.
Cafe Ohlone
Once hosted by UPB, Cafe Ohlone now serves guests outside the Hearst Museum of Anthropology on the Cal campus.
Savor the foods which characterized east bay cuisine for thousands of years, before European contact. Brought to you by Mak'amham.