Fossil Men: The Quest for the Oldest Skeleton and the Origins of Humankind (Paperback)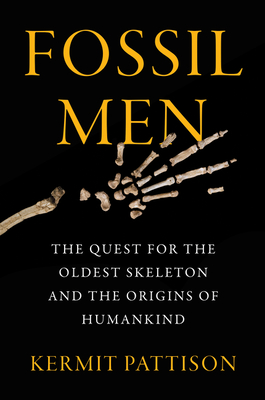 $18.99

Ships from Warehouse, Usually in 1-8 Days
Description
---
"Riveting. ... Pattison's uncanny ability [is] to write evocatively about science. ... In this, he is every bit as good as the best scientist writers." —New York Times Book Review (Editors' Choice) 
"Brilliant. ... A work of staggering depth." —Minneapolis Star Tribune
A decade in the making, Fossil Men is a scientific detective story played out in anatomy and the natural history of the human body: the first full-length account of the discovery of a startlingly unpredicted human ancestor more than a million years older than Lucy
It is the ultimate mystery: where do we come from? In 1994, a team led by fossil-hunting legend Tim White uncovered a set of ancient bones in Ethiopia's Afar region. Radiometric dating of nearby rocks indicated the resulting skeleton, classified as Ardipithecus ramidus—nicknamed "Ardi"—was an astounding 4.4 million years old, more than a million years older than the world-famous "Lucy." The team spent the next 15 years studying the bones in strict secrecy, all while continuing to rack up landmark fossil discoveries in the field and becoming increasingly ensnared in bitter disputes with scientific peers and Ethiopian bureaucrats. When finally revealed to the public, Ardi stunned scientists around the world and challenged a half-century of orthodoxy about human evolution—how we started walking upright, how we evolved our nimble hands, and, most significantly, whether we were descended from an ancestor that resembled today's chimpanzee. But the discovery of Ardi wasn't just a leap forward in understanding the roots of humanity--it was an attack on scientific convention and the leading authorities of human origins, triggering an epic feud about the oldest family skeleton.
In Fossil Men, acclaimed journalist Kermit Pattison brings us a cast of eccentric, obsessive scientists, including White, an uncompromising perfectionist whose virtuoso skills in the field were matched only by his propensity for making enemies; Gen Suwa, a Japanese savant whose deep expertise about teeth rivaled anyone on Earth; Owen Lovejoy, a onetime creationist-turned-paleoanthropologist with radical insights into human locomotion; Berhane Asfaw, who survived imprisonment and torture to become Ethiopia's most senior paleoanthropologist; Don Johanson, the discoverer of Lucy, who had a rancorous falling out with the Ardi team; and the Leakeys, for decades the most famous family in paleoanthropology.
Based on a half-decade of research in Africa, Europe and North America, Fossil Men is not only a brilliant investigation into the origins of the human lineage, but the oldest of human emotions: curiosity, jealousy, perseverance and wonder. 
About the Author
---
Kermit Pattison is a journalist whose work has appeared in the New York Times, GQ, Fast Company, and Inc., among many other publications. He spent more a decade doing research for Fossil Men, a large portion of which was spent in the field in Ethiopia with the team that discovered Ardi. This is his first book. He lives in St. Paul, Minnesota.
Praise For…
---
"[A] riveting account. ... In places, Fossil Men seems more reality television show than a work of popular science, as we follow an outrageous cast. ... The story lines border on the insane: There are civil wars, gunfights, at least one grenade rolling around the feet of scientists as they drive into the desert. ...  Pattison... is every bit as good as the best scientist-writers. He describes the intricacies of the human wrist and foot with the skill of a poet... [and] explains in clear and compelling prose how scientists build family trees of ancient species."     — New York Times Book Review
"Entertaining. ... Satisfying. ... Gripping. ... Big personalities, simmering turmoil, and fascinating popular science." — Kirkus Reviews (starred review)
"At the core of Kermit Pattison's rip-roaring tale is the prickly, obsessive, brilliant American paleonaut, Tim White, who braves revolutions, tribal warfare, and bitter scientific rivals to unearth ancient bones, without which there would be no pre-history, no civilization, no humanity."
— PETER NICHOLS, New York Times bestselling author of The Rocks and Evolution's Captain
"Brilliant. ... A work of staggering depth. ... Pattison deftly weaves strands of science, sociology and political science into a compelling tale that stretches over decades. ... His prose is lively and accessible. ... An ambitious work that fully justifies the extraordinary effort that went into it, both by the fossil men and by the writer who chronicled their work." — Minneapolis Star Tribune
"Fossil Men is a wonderful mix of history, science and politics, full of pathos and insight in equal measure. I found it difficult to put down, and I didn't want it to end....This book should be required reading for all those who care about how science may help answer the question of who we are as humans. A monumental achievement!"
— HASOK CHANG, Professor of History and Philosophy of Science, University of Cambridge
"An exciting book, full of colorful personalities, momentous discoveries, and new ideas that challenge us to reconsider everything we believed about the evolution of humankind." — Booklist
"Compelling science. ... Perfect for National Geographic readers who want to dig deep into the human evolutionary tree." — Library Journal
"A riveting story of academic, political, and personal intrigue." — Christian Science Monitor (Best Books of November 2020 Roundup)
"A dazzling journey into deep geological time. ... Pattinson combines his meticulously researched examination of the science of ancient humans with a visceral and penetrating tale of... intrigue, academic rivalry, pathological jealousy and intellectual inertia. He uses his first-hand experience of being on site in Ethiopia to detail the art, science, joys and challenges of fossil-hunting. ... Fascinating. ... Unexpected and revelatory." — The Spectator (London)
"Equal parts biography and adventure novel, Pattison illustrates the colorful characters — flaws and all — whose research has shaped our origin story as we know it today." — Discover magazine
"[A] lively debut. … Pattison ably combines the adventure yarn with scientific minutiae. … Those interested in human origins should check out this vivid and thorough study."  — Publishers Weekly
"Blends science and drama to tell the story of a major paleoanthropology find. ... For anyone interested in fossil hunting, evolutionary science and a hominid skeleton like no other, this book delivers." — Science News
"Pattison weaves the multiple intrigues of science, politics, and personalities into a masterly structured tale…. Leaves readers with a new sense of wonder at the origins of humankind." — Christian Science Monitor
"Fascinating. ... Exciting." — Twin Cities Pioneer Press
"Any science-minded person... will truly enjoy Fossil Men." — Danville Commercial-News
"Perceptive and revealing. ... Pattison has a commendable and enviable grasp of a wide range of difficult methods and concepts, and he does a fine job of presenting and explaining the many scientific developments that have enriched the way we interpret the hominin fossil record." — Journal of Human Evolution
UPB open Tuesday through Friday 1PM - 6PM, Saturday Noon - 5pm
2430 Bancroft Way
The store known for serving pure brain food has returned to our old digs for a few months to sell down inventory and bid fare thee well to our decades of in-store customers.
Days and hours subject to change.
Note: This site lists what's available for special order from Ingram Content Group.
Visit our pages at Alibris or Biblio to survey in-store stock priced above $19.95.
Discount applies only to in-store purchases.
Cafe Ohlone
Once hosted by UPB, Cafe Ohlone now serves guests outside the Hearst Museum of Anthropology on the Cal campus.
Savor the foods which characterized east bay cuisine for thousands of years, before European contact. Brought to you by Mak'amham.