The Menopause Thyroid Solution: Overcome Menopause by Solving Your Hidden Thyroid Problems (Paperback)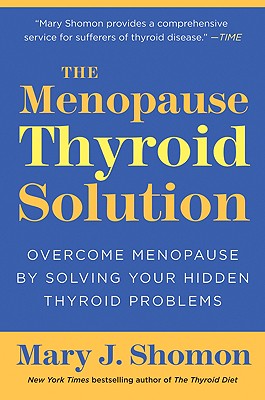 $15.99

Ships from Warehouse, Usually in 1-8 Days
Description
---
From New York Times bestselling author and nationally recognized patient advocate Mary J. Shomon comes a groundbreaking guide to safely managing menopause through a better understanding of and better care for your thyroid.
If you're one of the forty million American women struggling through menopause, you probably know all about the symptoms of fatigue, weight gain, and depression. But what you may not know is that the drop in reproductive hormones frequently triggers a thyroid slowdown—a "thyropause"—that can be the main cause for those troublesome symptoms. In fact, you may not even need hormone therapy, wild yam and progesterone creams, or herbs like black cohosh for a symptom-free menopause. What you really need is to begin to pay attention to your thyroid.
In The Menopause Thyroid Solution, Mary J. Shomon will help you:
Recognize the symptoms of a thyroid problem versus those of menopause
Learn how to get your problems diagnosed and treated
Find out what and how to eat, what medications to consider, what supplements to take, and what lifestyle changes to make
Improve your metabolism and increase your energy
About the Author
---
Diagnosed with a thyroid disease in 1995, Mary J. Shomon has transformed her health challenges into a mission as an internationally known patient advocate. She is the founder and editor in chief of several thyroid, autoimmune, and nutrition newsletters, as well as the Internet's most popular thyroid disease website, www.thyroid-info.com. She lives in Kensington, Maryland.
Praise For…
---
"Vital for hypothryoid patients who want to get well, and for physicians who want to do so." — Dr. John Lowe, Director of Research of the Fibromyalgia Research Foundation
"If I could recommend only one book on thyroid problems for my patients, this would be it." — Elizabeth Lee Vliet, M.D., Founder and Medical Director of HER Place Centers
"A must read book." — American Autoimmune Related Disease Association
"A first rate book" — Los Angeles Times
"At last, a book that helps people make sense of multiple mystifying symptoms, and offers a road map to proper diagnosis and the most effective treatments...a brilliant empowerment manual for finding the proper practitioners and moving forward in your life." — Richard Shames, MD, and Karilee Shames, PhD, RN, HNC, authors of Thyroid Power
"Fibromyalgia and Chronic Fatigue Syndrome confuse many doctors, and in turn they have difficulty giving good explanations to patients. Mary Shomon has been able to convert this 'medicalese' into simple talk that all patients can understand." — Kenneth N. Woliner, MD, Holistic Family Medicine practitioner
"I can think of few conditions more challenging to patients and the medical profession than fibromyalgia and chronic fatigue syndrome. Once again Mary Shomon has shed an incredible light on what really matters - everything from how to get an accurate diagnosis to finding the best treatment." — Marie Savard, author of How to Save Your Own Life, praise for LIVING WELL WITH CFS
"If you're one of the millions afflicted with fibromyalgia or chronic fatigue, or think you may be, start changing your life for the better now by reading this crucial book. There are very real answers that will help you even more than you dare to hope, a — Dr. Joseph Mercola, author of The No-Grain Diet, praise for LIVING WELL WITH CFS
"If you're one of the millions afflicted with fibromyalgia or chronic fatigue, or think you may be, start changing your life for the better now by reading this crucial book. There are very real answers that will help you even more than you dare to hope, and Mary Shomon has done an absolutely masterful job of providing them to you here." — Dr. Joseph Mercola, author of The No-Grain Diet
"If you're one of the millions afflicted with fibromyalgia or chronic fatigue, or think you may be, start changing your life for the better now by reading this crucial book. There are very real answers that will help you even more than you dare to hope, and Mary Shomon has done an absolutely masterful job of providing them to you here." — Alternative Medicine Magazine
"Shomon excels at comprehensiveness, covering all the decisions that a patient has to make when dealing with thyroid conditions." — Library Journal
"The truth, the whole truth, and nothing but the truth about autoimmune diseases from Mary Shomon, the woman who taught America about thyroid disease! Her book will enlighten you about how to diagnose, treat, and possibly even prevent, autoimmune disease — Carol Roberts, MD, Director, Wellness Works Holistic Health Center
"The truth, the whole truth, and nothing but the truth about autoimmune diseases from Mary Shomon, the woman who taught America about thyroid disease! Her book will enlighten you about how to diagnose, treat, and possibly even prevent, autoimmune disease in yourself or someone you love. Mary has my highest respect for her careful research and the way she presents both the conventional and the alternative aspects in a way that anyone can understand." — Dr. John Lowe, Director of Research of the Fibromyalgia Research Foundation, Praise for: LIVING WELL WITH HYPOTHYROIDISM
"This informative self-help manual is badly needed." — Publishers Weekly
"...inspirational for those afflicted with mysterious conditions...offers solid, practical advice for getting your health back on track." — Alternative Medicine Magazine